Berber to Beni Ourain rugs: Different kinds of Moroccan rugs

Moroccan rugs are known for their beautiful colours, distinct patterns and vibrant style that can light up any room. They're also one of the most popular types of rugs available today, with homes across the world using chic Moroccan rugs to enhance their interior decor.
From Berber to Boucherouite, Boujad and Beni Ourain rugs, there are more options than ever when it comes to Moroccan rugs. So, how do you choose the right style for your home?
If you're looking to add a stylish Moroccan rug to your home, we're here to help. In this blog, we break down the main types of Moroccan rugs to help you find the perfect fit for your floors. Read on!
What are the main types of Moroccan rugs?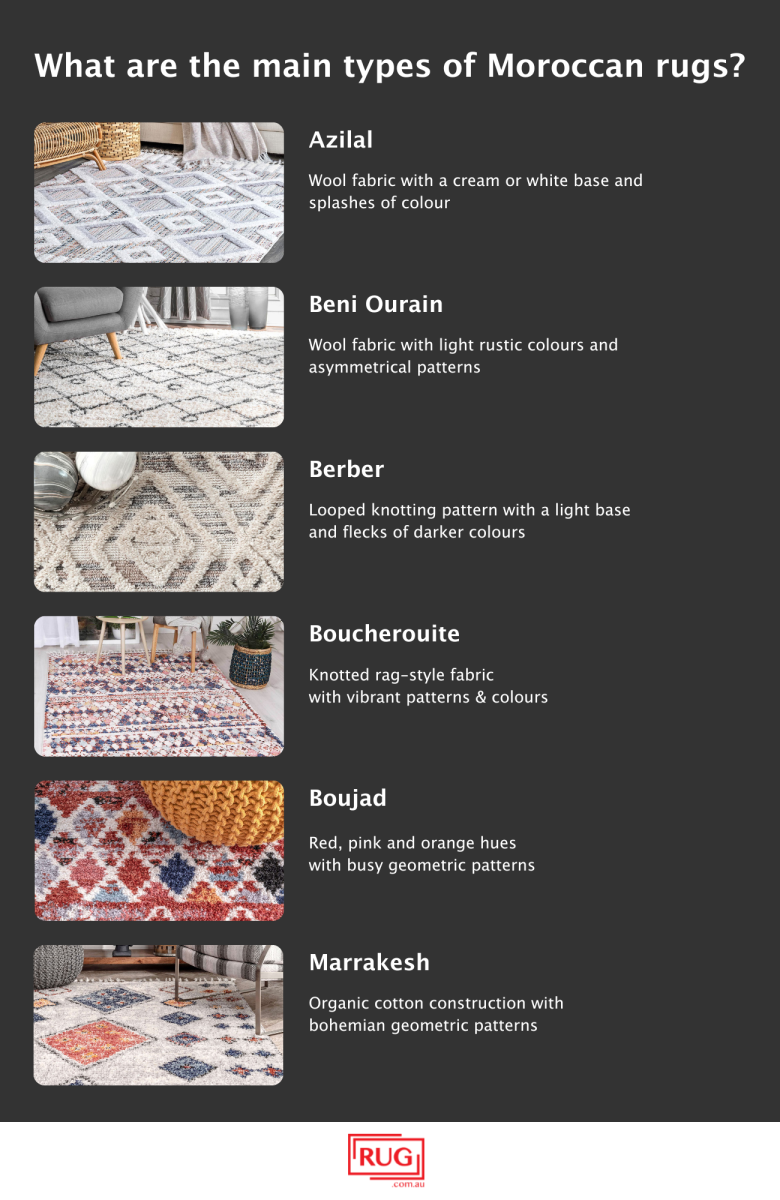 Moroccan-style rugs are designed and hand-woven by Morocco's indigenous tribal people. Moroccan rugs were made to suit the variable climate of Morocco, with thin flat-weave rugs used in hotter areas and thicker rugs made from sheep's wool for extra warmth in breezy mountain spots.
Known for their distinct colours and busy patterns, Moroccan rugs range from bright, vibrant shades to natural or monochrome tones, making them a popular choice for a range of interior decors.
Each type of Moroccan rug gets its name from the tribe that created it. For example, Berber rugs were originally made by the Berber people of Northwest Africa. Their style has changed over time based on new traditions and customs, with designers across the world either replicating the tribe's original design or transforming it with modern touches.
While there are many different types of Moroccan rugs, the main styles available today include:
Azilal rugs
Beni Ourain rugs
Berber rugs
Boucherouite rugs
Boujad rugs
Marrakesh rugs
Azilal rugs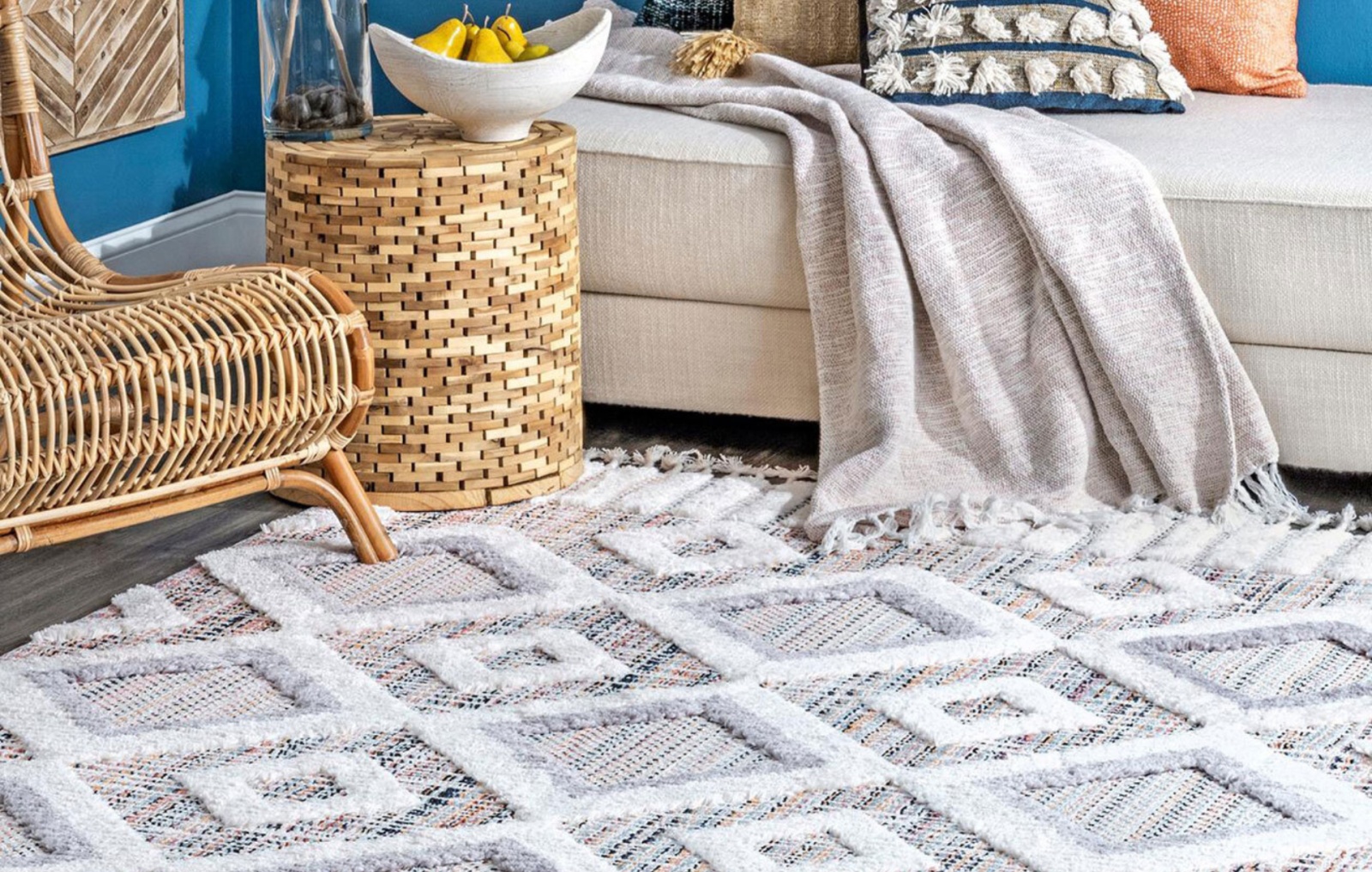 Traditionally made from single-knotted wool, Azilal rugs are known for their abstract patterns and splashes of colour that give them a distinct, lively appearance.
Similar to Beni Ourain and Boucherouite styles, Azilal rugs generally feature a cream or white base highlighted with flecks of colour and charming asymmetrical patterns. The dyes for each fabric were traditionally extracted from nearby flowers, giving a distinct, one-of-a-kind colour scheme to each rug.
Beni Ourain rugs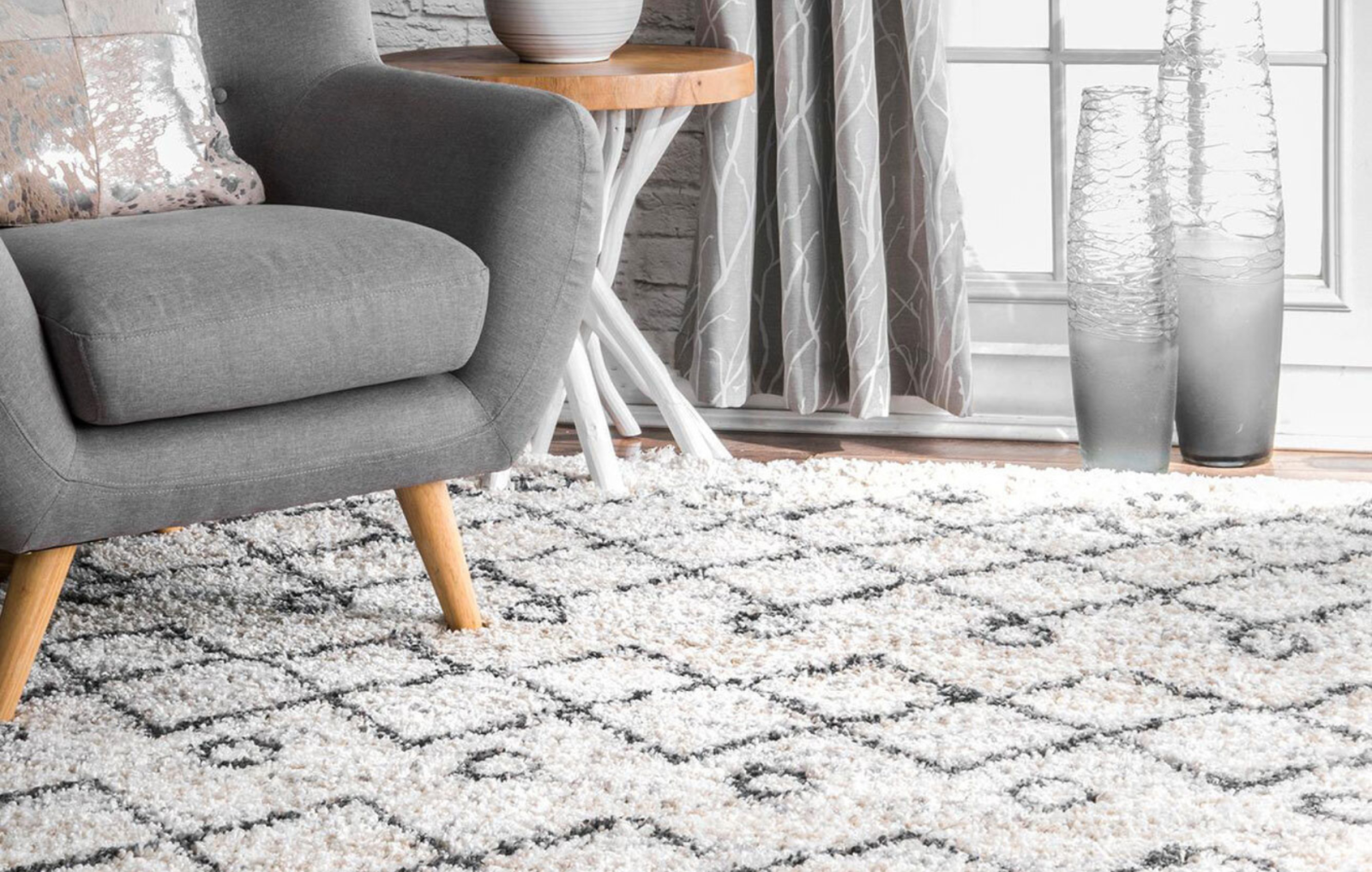 As one of the most common types of Moroccan rugs, Beni Ourain rugs have become a huge hit with modern stylists thanks to their minimalist look. Created by the Beni Ourain tribe, this style features understated whites, creams and sandy colours that create a rustic feel. They're also known for their asymmetrical patterns that add a friendly, welcoming touch to each design.
Beni Ourain rugs are often confused with Beni M'Guild rugs, as they feature similar patterns and colours. However, Beni M'Guild rugs were traditionally made in cooler areas by the Beni M'Guild tribe and feature thicker fabrics for extra warmth.
Berber rugs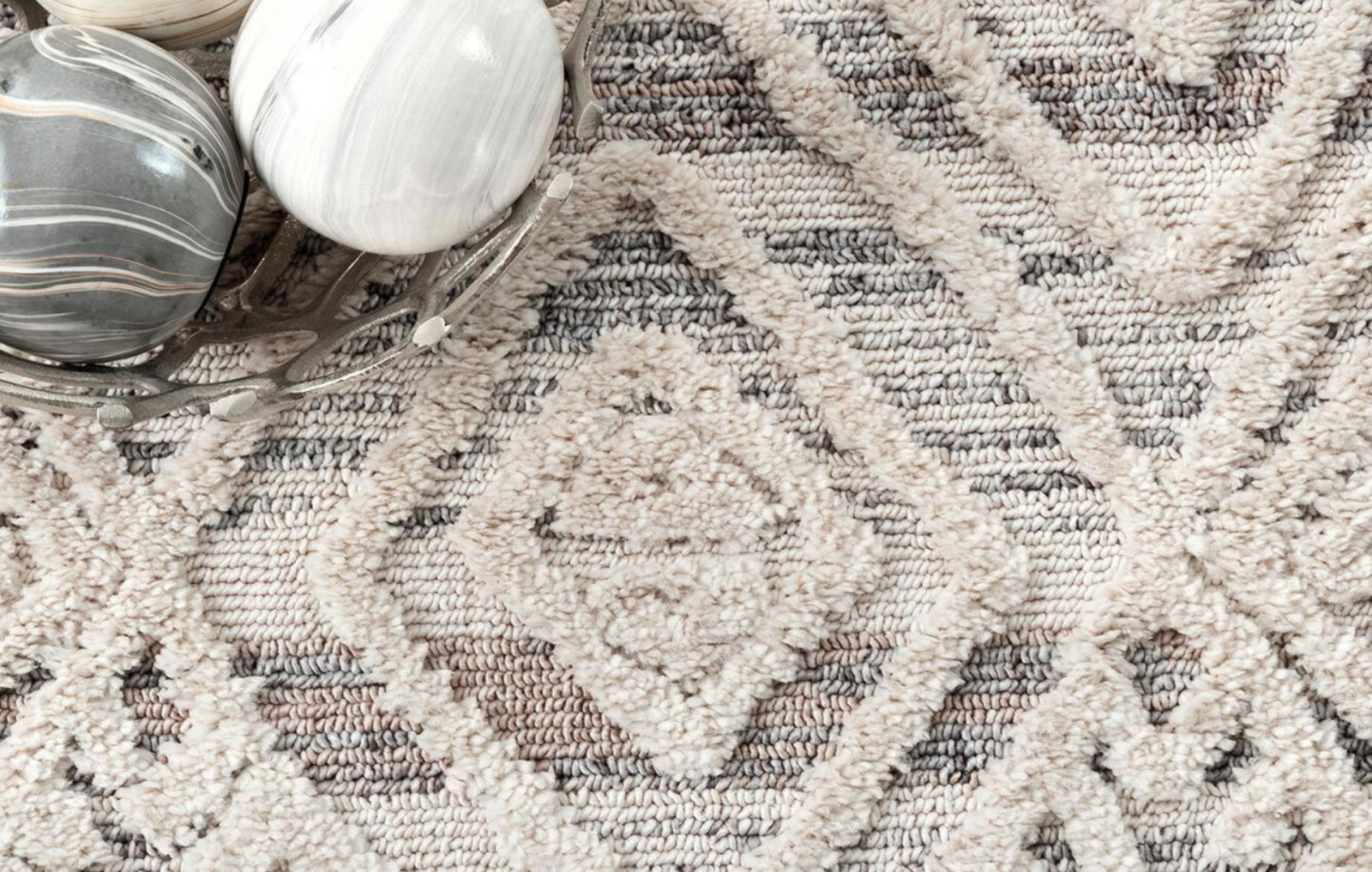 Berber rugs are made with a light-coloured base that features flecks of darker colours including greys, tans, browns and more. They feature a distinctive pile made with uncut loops that improves their resilience.
Originally woven by the Berber people of North Africa, Berber rugs are less expensive than most styles of rugs as they're typically made with affordable olefin fibre. They also complement a range of modern Australian decors including bohemian, eclectic and minimalist themes. Berber rugs from Morocco are a popular choice for modern homeowners looking for a rug that suits minimalist decor themes.
Boucherouite rugs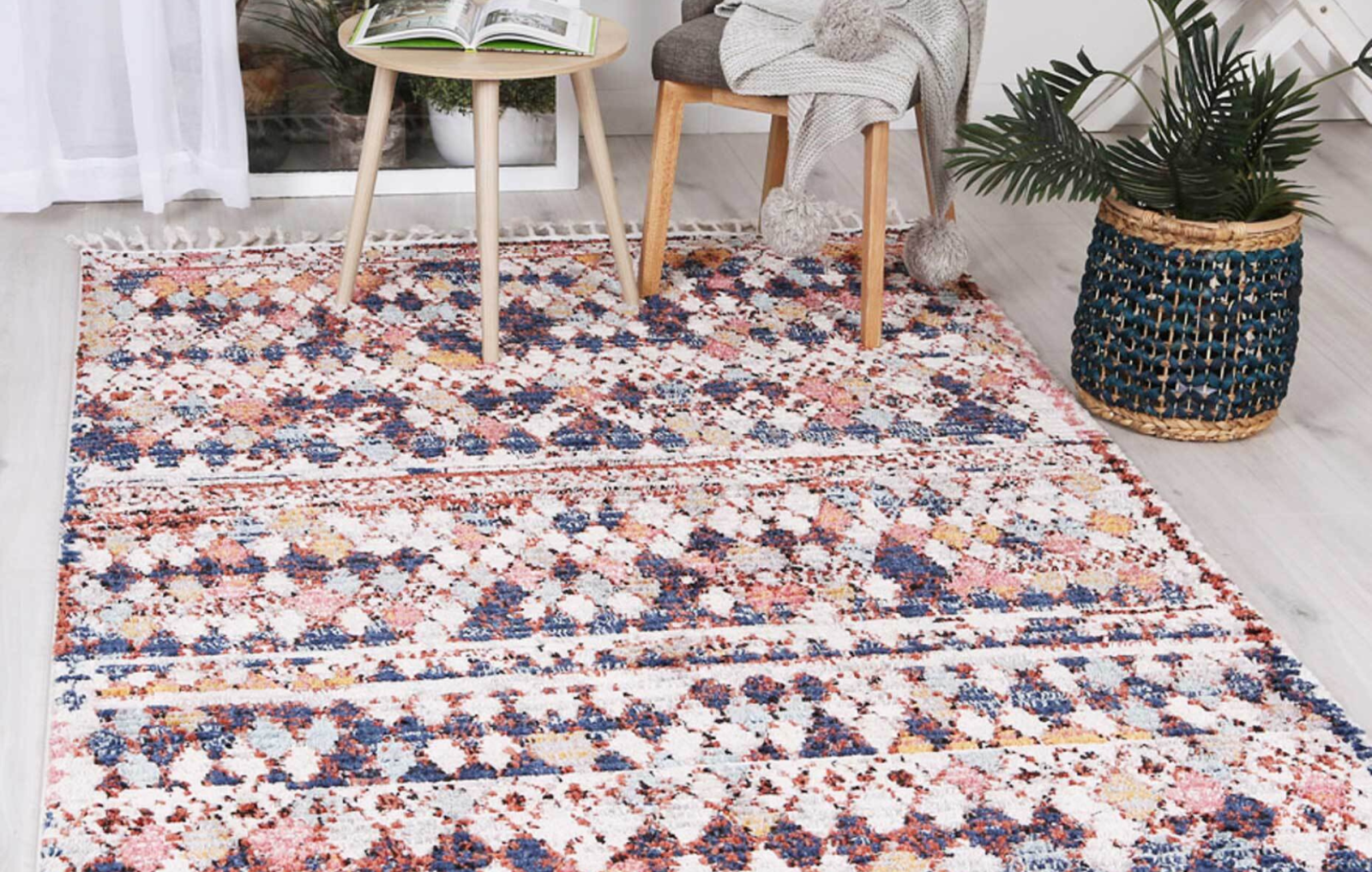 Boucherouite rugs are one of the most distinct styles of Moroccan rugs thanks to their unique use of fabrics. The word "boucherouite" means "rag" in Arabic which gives this iconic rug its name, as boucherouite rugs are made with scraps of fabric, discarded material and old clothes.
This style of rug doesn't come from a particular tribe or people and was made across the region during wool shortages when alternative fabrics were required.
Boujad rugs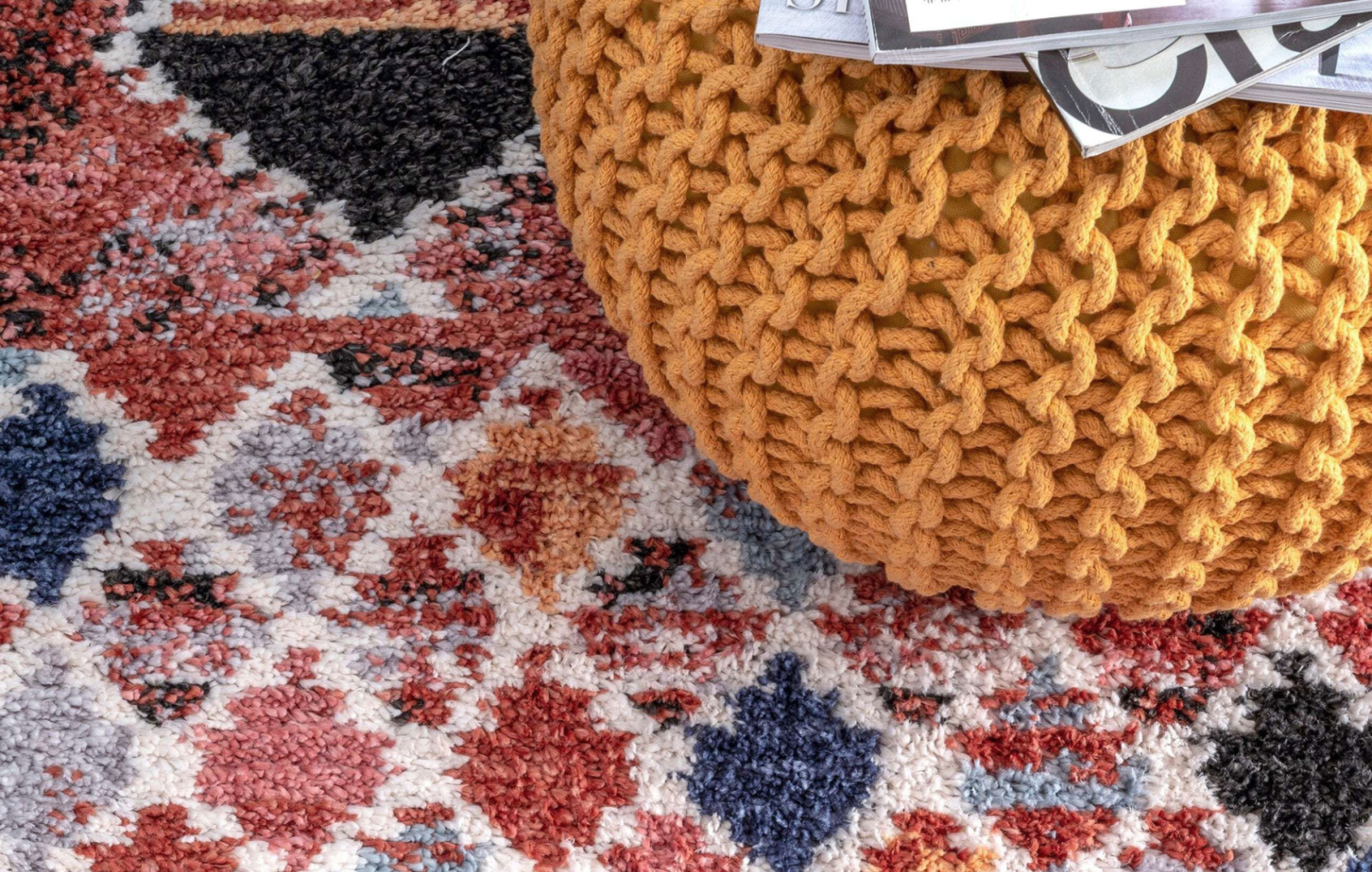 Similar to Berber rugs, Boujad rugs are made from wool using a tight knotting technique and feature intricate geometric patterns.
Boujad rugs are made with vibrant, colourful shades, including red, orange, purple, blue and pink made from natural dyes. They are named after the small city of Boujad and are one of the most recognisable styles of Moroccan rugs across the world.
Marrakesh rugs
Marrakesh rugs typically feature tribal-style patterns and bright contrasting colours that create a fun, eye-catching addition to modern homes. Named after the fourth largest city in Morocco, Marrakesh rugs are not specific to any particular tribe or group.
Marrakesh rugs can be made with a range of materials including wool and synthetic polypropylene. Unlike other types of Moroccan rugs, they can be made with either neutral or vibrant base colours depending on the design of choice. This makes them one of the most versatile styles of Moroccan rugs.
Are all Beni Ourain, Azilal and Berber rugs from Morocco?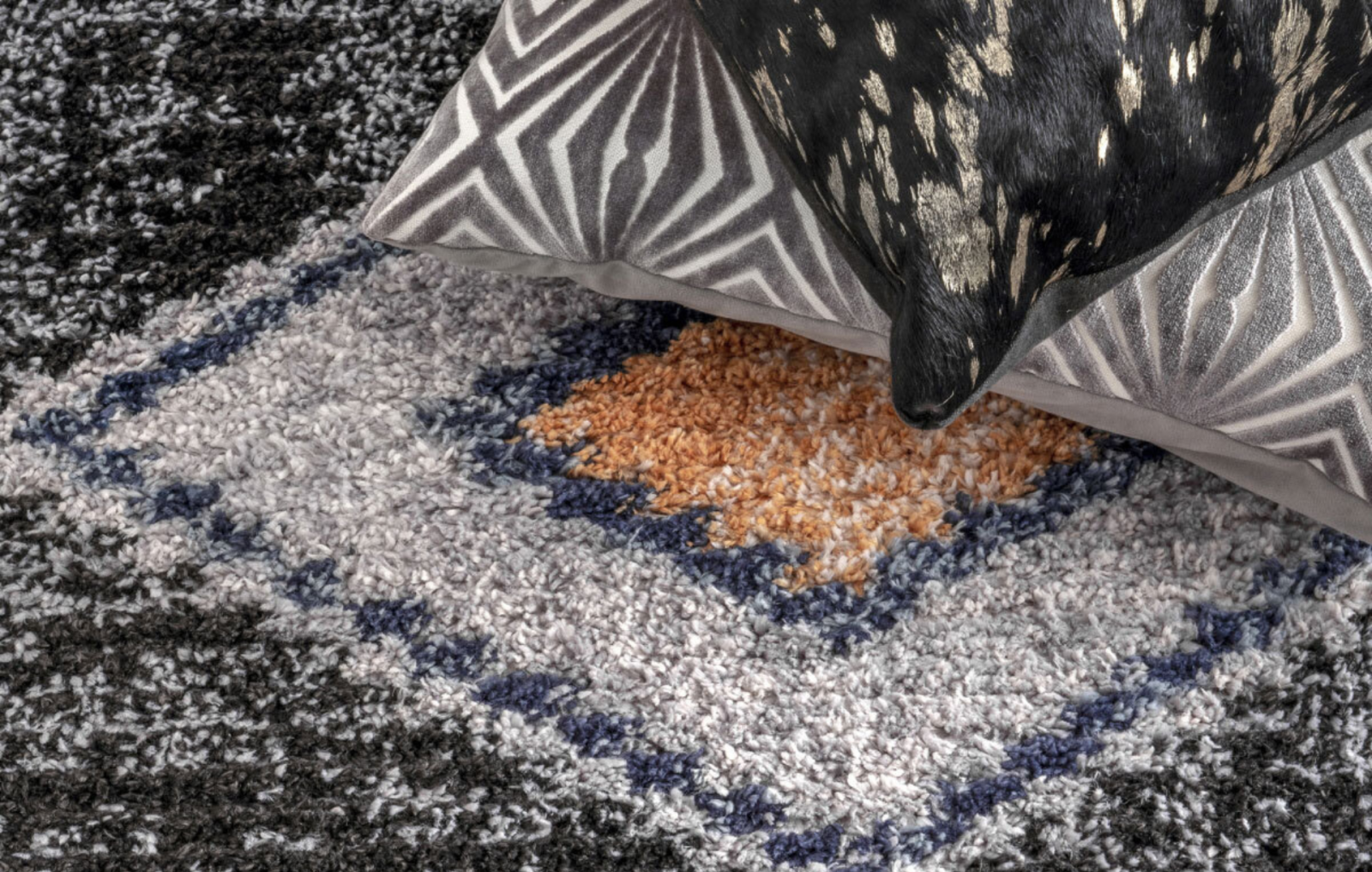 Despite originating in Morocco, most Moroccan rugs are now made across the world in various countries such as:
While many Moroccan rugs are still made with wool, modern materials like synthetics have become more popular thanks to their durability. Synthetic fibres are also easier to dye, allowing for more experimentation with colourful patterns, shapes and tones.
Common materials for Moroccan rugs include:
Wool
Polyester and micro polyester
Acrylic
Frieze polypropylene
From durable synthetics to shaggy Beni Ourain rugs, add a chic Moroccan feel to your home with Rug.com.au
Complete your space and bring your living rooms, bedrooms and dining rooms to life with a gorgeous Moroccan rug from our collection.
From chic geometric patterns to vibrant colours, cool neutrals, tribal-inspired designs and more, we've got the right fit for your floors. Plus, get free shipping when you spend over $300 on your order — terms and conditions apply!
Spice up your home with a Moroccan rug today.
Order now and get free shipping when you spend over $300!