6 sweet and stylish girls room decor ideas

Whether you're preparing for a new baby, setting up your toddler's very first bedroom, or updating your daughter's room as she speeds into her teenage years, the interior design and decoration options are endless!
So where do you start?
There are some real trends happening right now in girls room decor from bright colours to pretty pastels, twinkle lights, fluffy cushions, and indoor plants. The trick is to find something your daughter really loves, so she'll feel right at home in her brand new bedroom.
Need some inspiration? Here are some of our favourite trends in room decor for girls!
#1. A stunning feature wall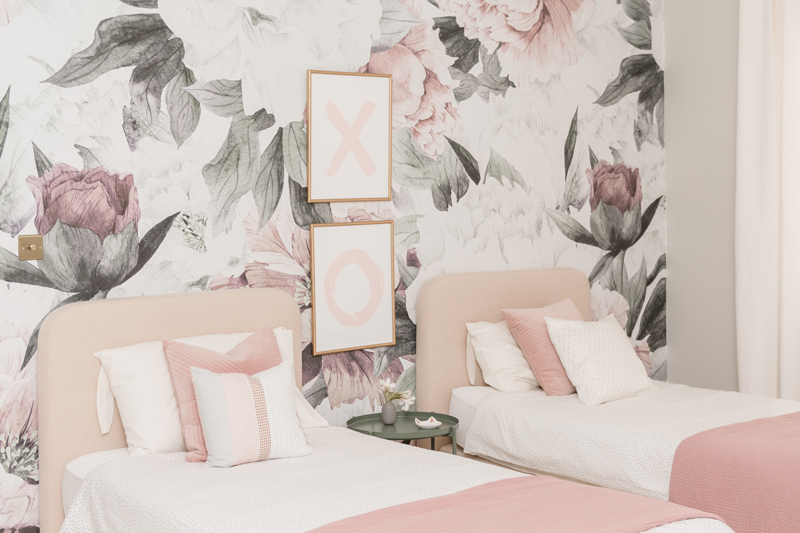 Image: Minty Magazine
Feature walls have been a major trend for interior designers for years - whether it's the lounge room, dining room, or even the bedroom! A feature wall can add some much-needed fun and character to a room, so why not add one to your girl's bedroom?
For a feminine touch, consider adding a floral print to one of the walls in your daughter's bedroom. Her room will instantly look and feel like a magical fairy garden - plus, it's super easy to achieve. Prints like the one pictured above can be removable, so you can simply stick the print onto the wall and take it down when your girl needs a bedroom refresh.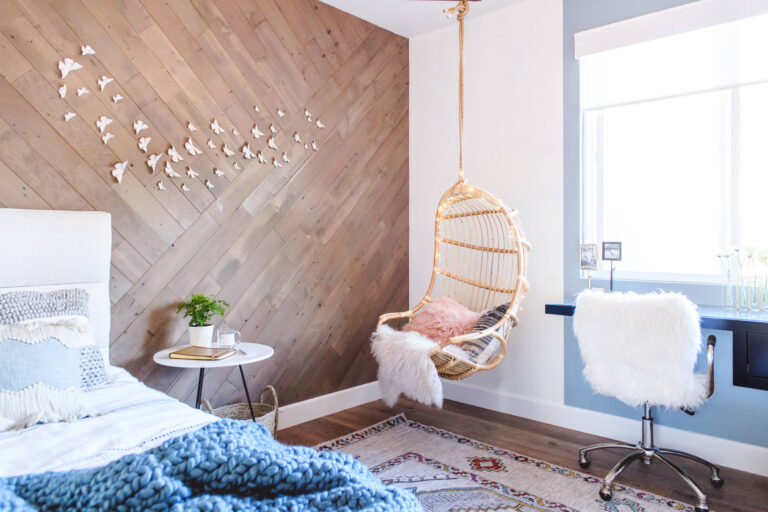 Image: Diego Bianki
If you're looking for a more permanent solution to your daughter's feature wall, consider a natural timber feature wall like the one pictured above. It'll take a little more work than a stick-on feature wall, but the result looks incredible.
For teen girls, it's an earthy, neutral look that'll add some much-needed cosiness to their space.
#2. Fun and fancy pillows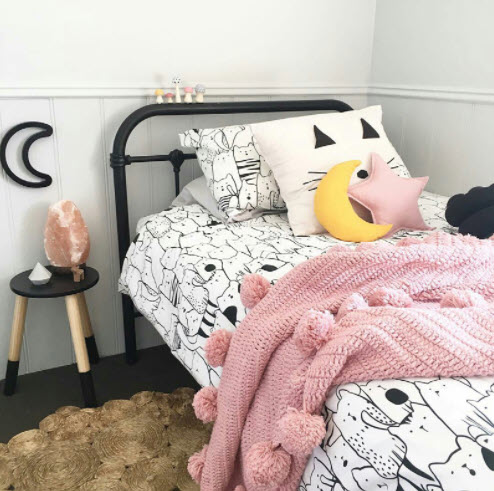 Image: Kids Interiors
When it comes to girls room decor, you can never have enough pillows!
The trick is to mix and match with your pillows - think fluffy pillows, geometric patterns, stripes and spots, and all different shapes to create a cosy atmosphere for your girl's bed.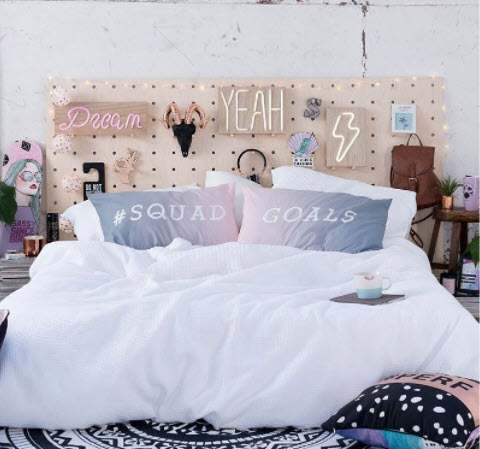 Image: Son Amzlar
You can even make a statement with your pillows - literally! Grab some pillows and pillowcases that express your daughter's personality. It'll add some cool character to her bedroom design.
#3. A decorative rug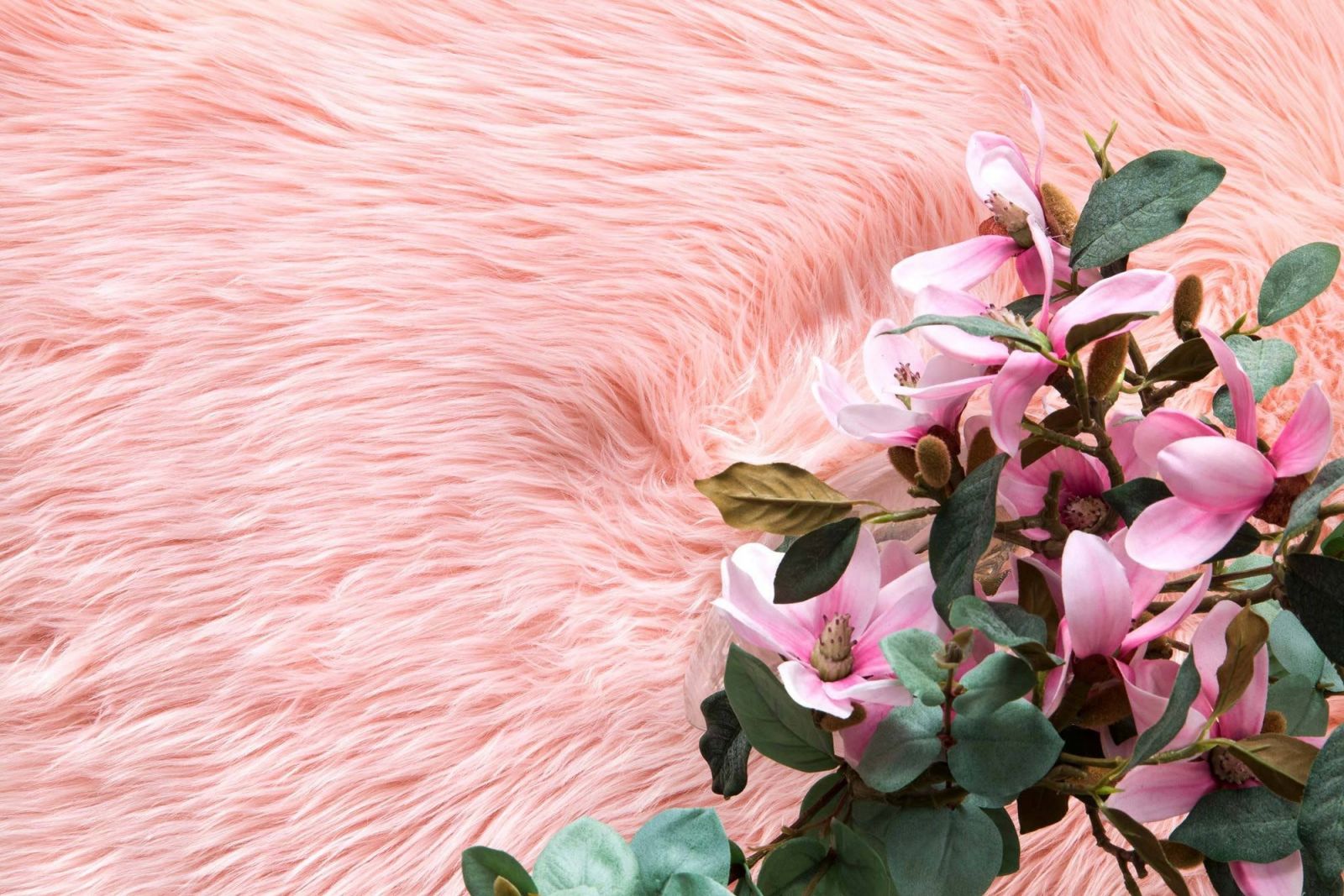 Image: Fluffy Pink Fur Faux Sheepskin Rug
A stylish rug is a must-have when it comes to room decorations for girls. A lot of focus tends to be on the walls and the bed - but what about the floor?
Consider adding a faux sheepskin rug to your daughter's bedroom floor. Fluffy rugs can add a chic and sophisticated look to her bedroom design - it's simple, it's soft, and it's perfect for dipping your toes into on those cold winter mornings.
Plus, it's evergreen, meaning it'll still fit into your daughter's room design from toddlerhood to her teens.
Our faux sheepskin rugs come in stunning white, feminine pink, and a neutral charcoal grey, so you can match her new rug to her bedroom design.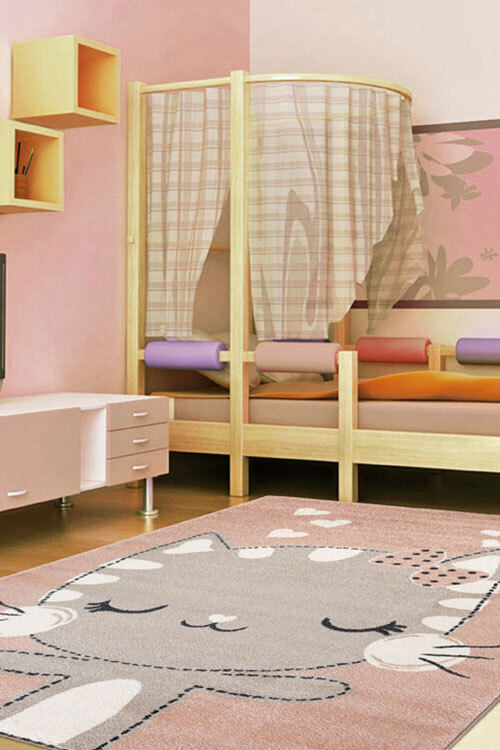 Image: Kade Kitty Cat Kids Rug
If you're looking for something extra cute for your toddler or child, find a rug with an adorable character or design to keep them company at bedtime. This is especially helpful for toddlers who are just starting to sleep in their own bed instead of a cot or crib.
Plus, it's the perfect place for your little ones to play with their toys, do puzzles, and read their favourite books. Shop our kids rugs online now - we have plenty of designs to suit your girl's sense of style.
#4. Elegant lighting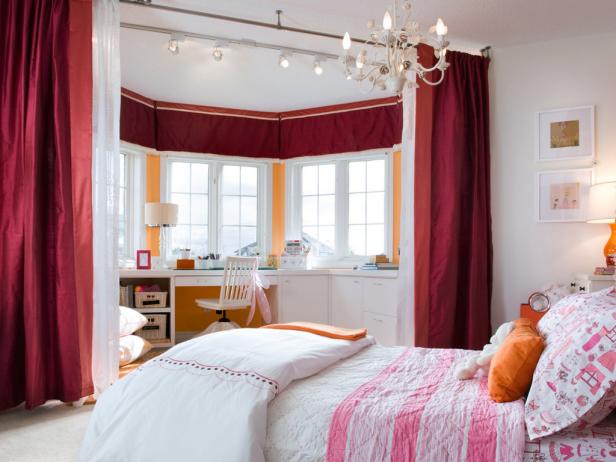 Image: HGTV
Add some elegance to your girls room decor with intricate chandeliers and characterful lamps! A chandelier like the one pictured above will make your daughter feel like the princess she is - plus, chandeliers can add soft lighting to any room, so she will have a relaxed atmosphere leading up to bedtime.
Apart from chandeliers, look for lamps with a colourful base to match the colour scheme of the room, or go for a more neutral texture like chrome, silver, or gold so your daughter can update her bedroom design without having to change the lamps.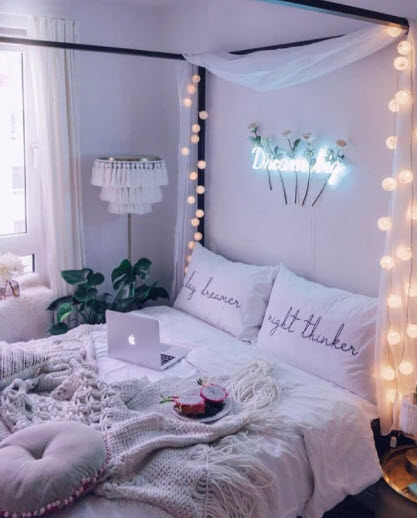 Image: Pinterest
Twinkle lights and globe lights are also popular for girls room decor. They're an inexpensive and stylish way to add atmosphere and light to your daughter's bedroom - consider draping them around the bed frame for soft lighting as she drifts off to sleep - or catches up on her Netflix shows!
#5. Clever storage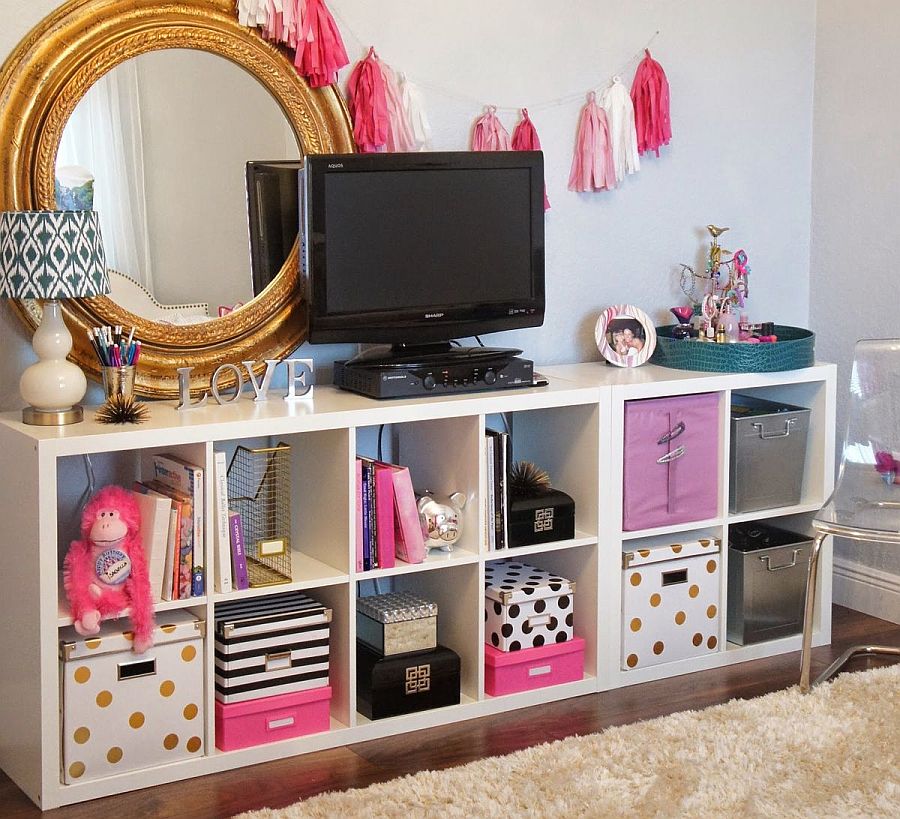 Image: Decoist
To keep her room neat and tidy, you're going to need some clever storage which is both functional and fashionable. Cube shelves are a popular choice for interior designers and parents alike - your daughter can store her toys, knick knacks, makeup, books, and so much more in boxes, then slip them back onto the shelf when she's done with them.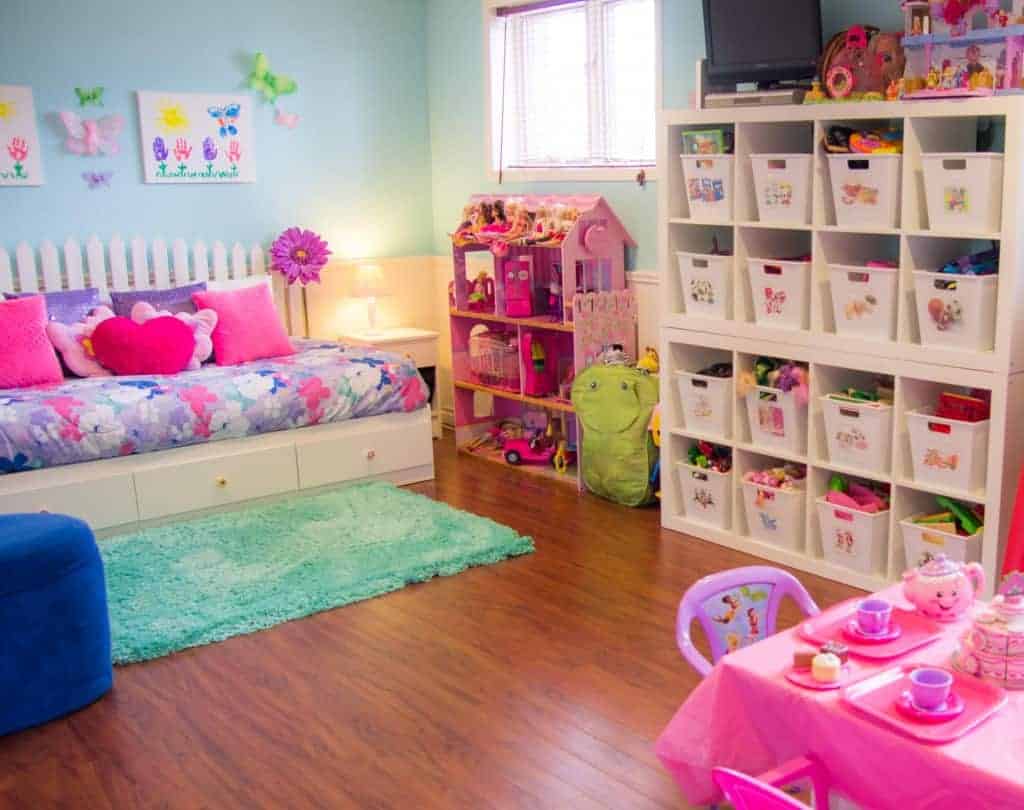 Image: Pinterest
Pick up some baskets and boxes for her cube shelf, and consider purchasing a bed with drawers built-in. She can store her clothing under her bed, so a wardrobe may not even be necessary.
#6. Low maintenance indoor plants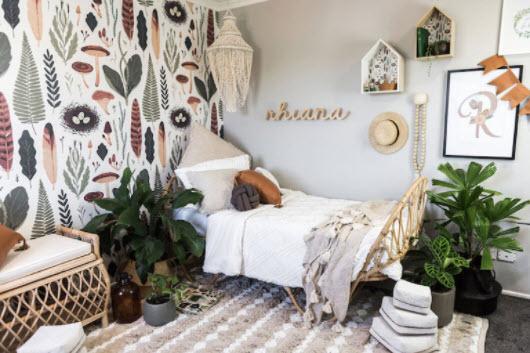 Image: Kids Interiors
If your daughter has an earthy personality, consider adding some low maintenance indoor plants to the mix. Leafy greens can add some all-natural style to her bedroom design - plus, plants have been proven to have a positive effect on your mental health, lifting your mood without even realising it.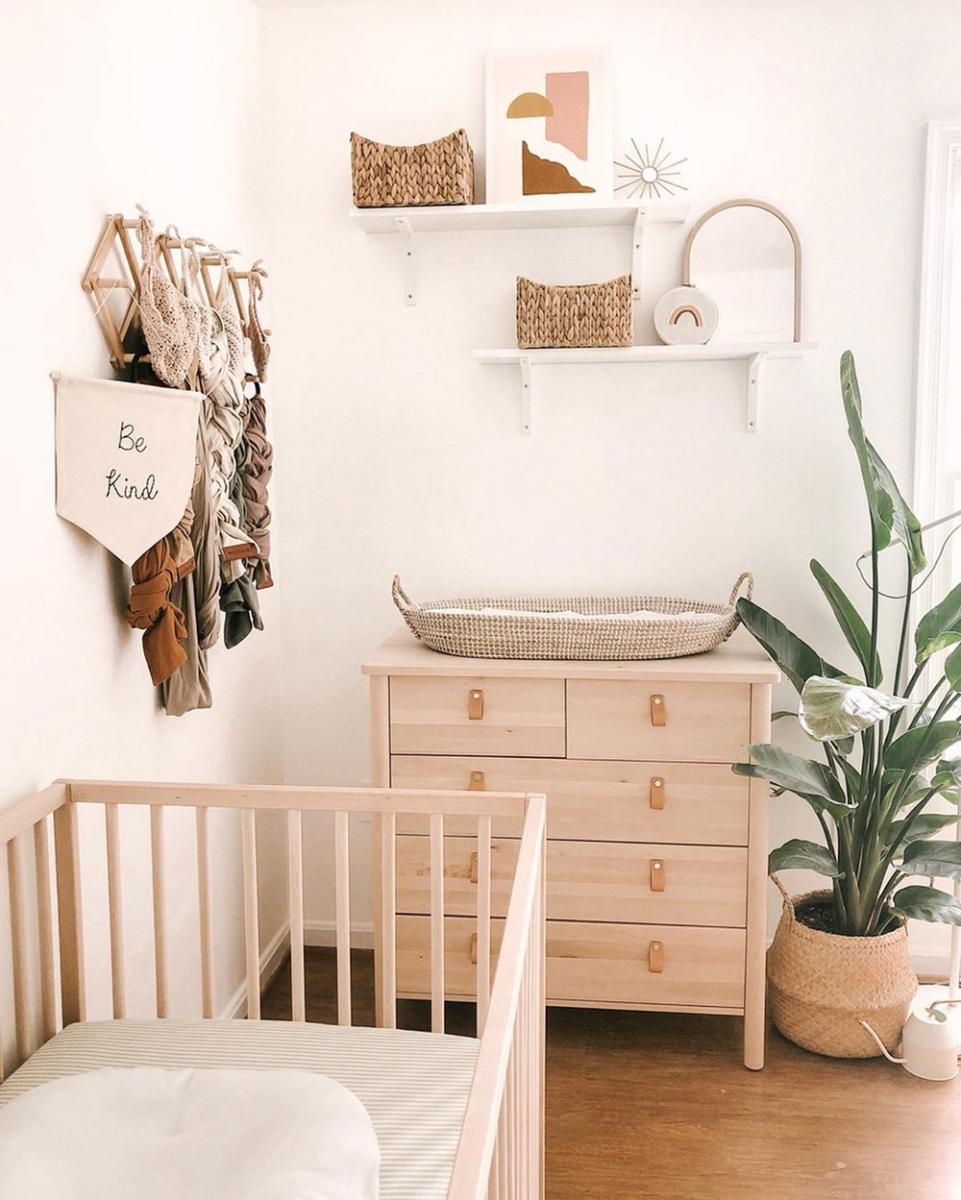 Image: La Residence
Think succulents with thick waxy leaves, bromeliads, jade, and Chinese money plants. They don't require a lot of care, so long as they're placed near a window for some sunlight during the day.
Cactuses are also a popular choice, but maybe keep these out of a toddler or baby's room!
Add some colour and character to your girls room decor with Rug.com.au!
There are plenty of ways to freshen up your girls room decor from twinkle lights to indoor plants and feature walls - but a stylish rug is an absolute essential!
At Rug.com.au, we have an incredible range of kids rugs to choose from. We offer free shipping on all orders over $300, so it's the perfect excuse to stock up on decorative rugs for your daughter's bedroom. Shop now!
Feature Image: Pixabay