How to decorate your house like an interior designer

It's not uncommon to want a change of scenery every now and then.
You might be thinking of renovating your existing living space, knocking down and rebuilding your home, or moving house altogether. You might even be thinking about moving towns or taking an extended holiday, gallivanting around the countryside while international flights and trips are inaccessible.
We all like change every now and then… but one of the simplest and most affordable ways to refresh your surroundings is a home decor overhaul! There's never been a better time to rethink your interior design and reinvent your home from the floor up, without making major structural changes.
Need some inspiration? In this blog, we share how to decorate your house like a professional interior designer, from feature walls and furniture to indoor plants and fairy lights. Read on!
Decorator tip

#1: Paint the walls in block colours - but don't shy away from feature walls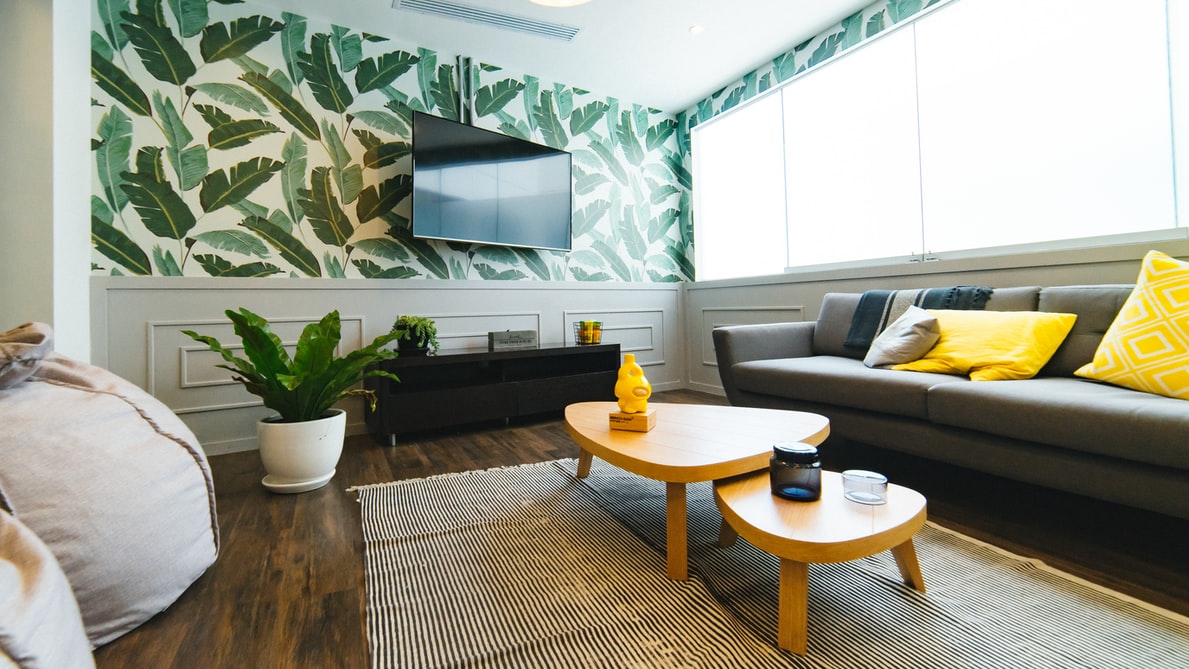 Image: Unsplash
If you're looking to overhaul the visual theme of your home, make sure to start with the foundations: the walls! A neutral, block colour will give you more room to experiment with eye-catching artworks, colourful furniture, sculptures, candles, rugs, and so much more.
However, you don't have to shy away from the patterned wallpaper you've been eyeing off. Rather than covering each and every wall with an overwhelming pattern, choose one or two walls in each room (or just one room) as the feature wall. Consider a feature wall a masterpiece, bringing life and fun to the space.
Alternatively, consider saving one wall for a large wall hanging, like a Morrocan rug or handmade piece of macrame. This can add texture to an otherwise unremarkable wall and show-off your unique sense of style.
Decorator tip

#2: Choose a colour scheme for your furniture and experiment with hues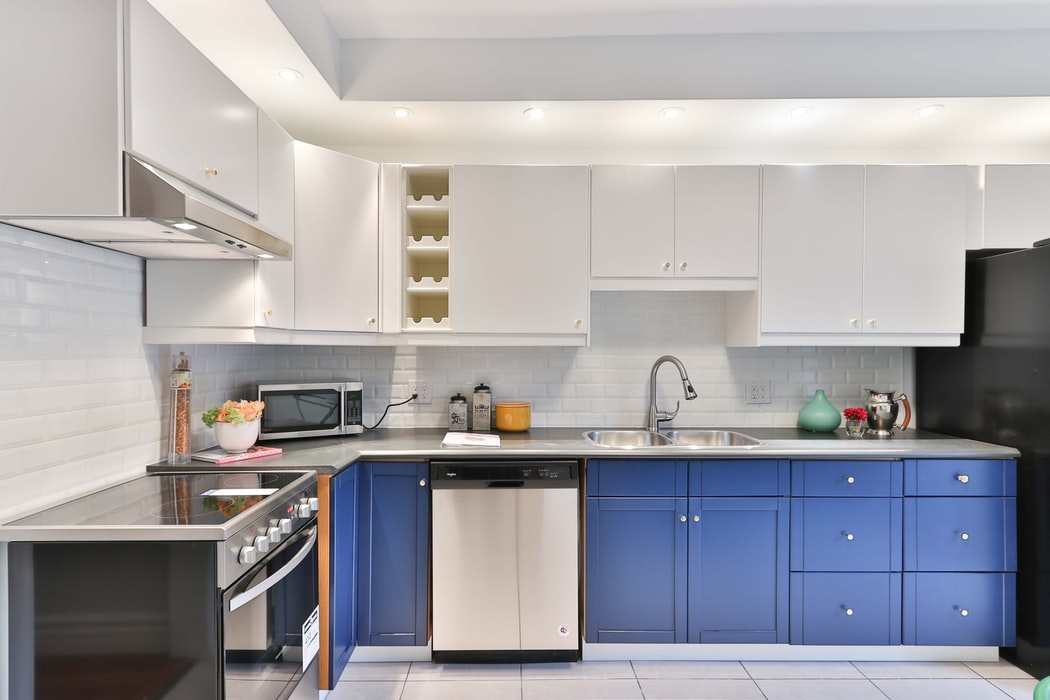 Image: Unsplash
Mixing too many colours in one room can become overwhelming, or even a little tacky. The trick is to choose one colour scheme and stick with it, although hue variations of the main colour is always welcome.
Take the kitchen above, for example. The colour scheme appears to be monochrome (i.e. black, silver, grey, and white) with blue and natural wood highlights. The blue shelving adds a stunning pop of colour to the space, and hue variations like the aqua pot and vintage silver kettle add an extra hint of character.
If the kitchen is open plan and the dining room is interconnected, you might consider adding a black timber table and a glass vase filled with blue flowers (preferably fresh, but not a deal-breaker).
Decorator tip

#3: Add soft, cosy rugs to bedrooms, living rooms, and even hallways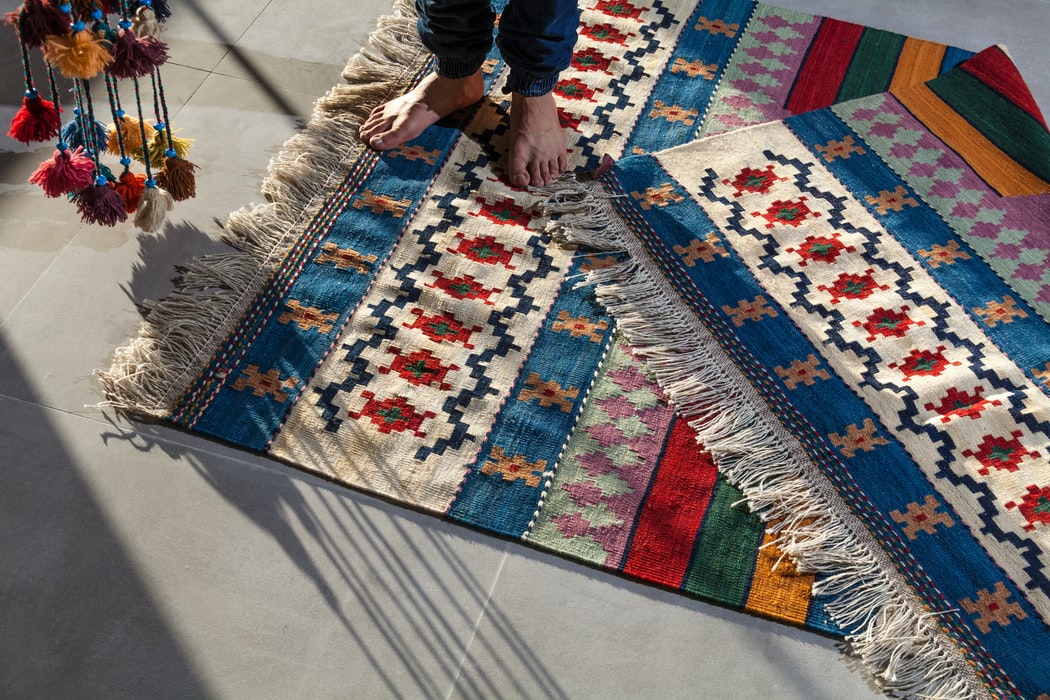 Image: Unsplash
If it feels like there's something missing from your new home decor design, it's probably a rug! Available in all shapes, colours, patterns, and sizes, rugs are an essential part of interior design - rather than leaving the floor boring and bare, we recommend adding a splash of colour to the space with an eye-catching rug.
Moroccan rugs are a popular choice for homeowners all over the world. Inspired by the handwoven designs of the indigenous people of Morocco, today's Moroccan rugs feature textured weaves, vibrant mismatched colours, and tassels for an exotic addition to any living space.
Shaggy rugs, on the other hand, are perfect for living spaces where comfort and cosiness is a must - think bedrooms and living rooms. Shag rugs have longer fibres and feel soft underfoot, so you can slide out of bed in the morning and feel instant warmth, or spread out on the floor in front of the fireplace and catch up on some Netflix.
Rugs can also be used to decorate your outdoor entertaining area. Take our Subi Border Flatweave Rug, for example - woven from polypropylene, this rug is ideal for both indoor and outdoor use. Match the geometric border with neutral outdoor furniture and tonnes of green, leafy plants, and your guests will be drooling over your interior design choices.
Decorator tip

#4: Add soft lighting to the living room and bedrooms for a relaxed atmosphere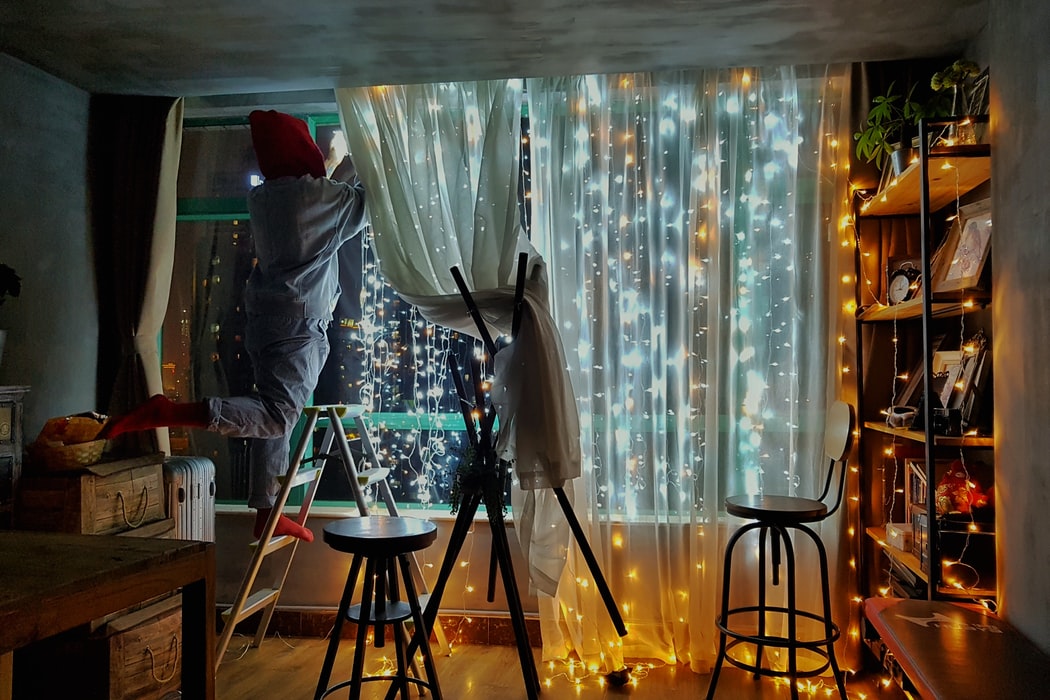 Image: Unsplash
Whether you're decorating indoors or outdoors, soft lighting is an absolute must for a relaxed atmosphere.
Think warm twinkle lights, icicle lights, or even lanterns with tea light candles. All three create a dim lighting design, ideal for watching movies in the living room, keeping the get-together going on the deck at night, or even helping little ones feel safe and secure at bed-time.
Soft lighting is also cheap and energy-efficient. Incandescent fairy lights consume about 40W per 100 lights - throughout December/Christmas time, this averages out at around $17 per 1,000 light bulbs. Imagine the savings on casual, every day (or evening) lighting!
Decorator tip

#5: Decorate with lots of house plants for an earthy element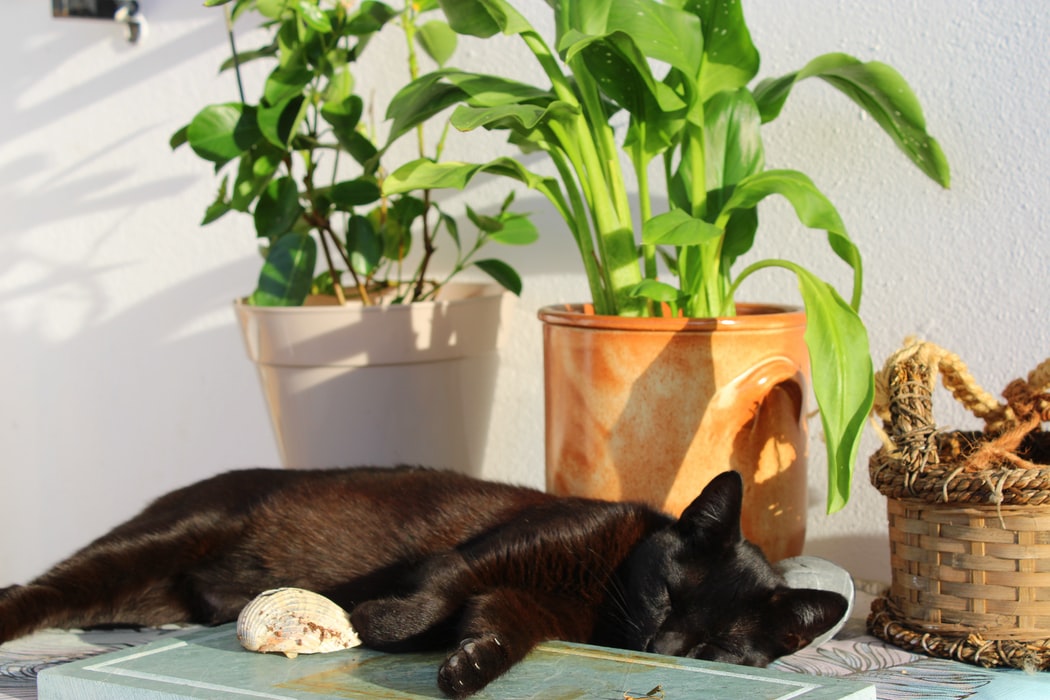 Image: Unsplash
Having lots of houseplants is one of the biggest home decor trends of the decade. Gardening fans are now called "Crazy Indoor Plant People", "Plant Mums", and "Plant Dads", filling their gardens and homes with healthy, leafy greens.
House plants bring an earthy, all-natural vibe to your home decor design, while also filling the space with a fresh atmosphere. Monsteras, peace lilies, and asparagus ferns are all popular choices, or for homeowners looking for a more low-maintenance plant project, succulents and cactuses are great, too.
As an added bonus, house plants go with almost all home decor designs. For example, ferns add a natural twist to minimalist monochrome home designs, whereas aloe plants and succulents match well with bohemian looks, jute rugs, and macrame.
And finally, there are the health benefits of indoor plants - studies have shown even a brief encounter with nature can reduce mental fatigue and stress, while increasing relaxation and self-esteem, making indoor plants perfect for decorating studies and home offices.
Now that you know

how to decorate a house

like an interior designer, it's time to shop for the basics
Have our interior decorator tips left you feeling inspired? Then it's time to get cracking on a shopping list for your home decor overhaul!
We have a wide range of high fashion rugs available online including Moroccan rugs, jute rugs, shag rugs, and much more. No matter the look you're going for, you're sure to find the perfect floor art for your home decor refresh.
Shop the range online now!