7 attractive ways to style a shaggy Moroccan rug

One of the most popular and lasting interior design trends is the Moroccan theme.
Characterised by its vibrant colours, rough textures, tassels, and warmth, the Moroccan theme is perfect for homes big and small. Even renters living in a small apartment can make a Moroccan theme work like a charm.
All that's needed is a lust for life and a love of bright, warm colours.
We're expecting to see the Moroccan theme make even bigger waves in 2021 as "texture" becomes the new norm. So, we've created a guide to decorating indoors with Moroccan decor - more specifically, how to style the most important element: the traditional Moroccan rug.
#1. Don't be afraid to mix and explore patterns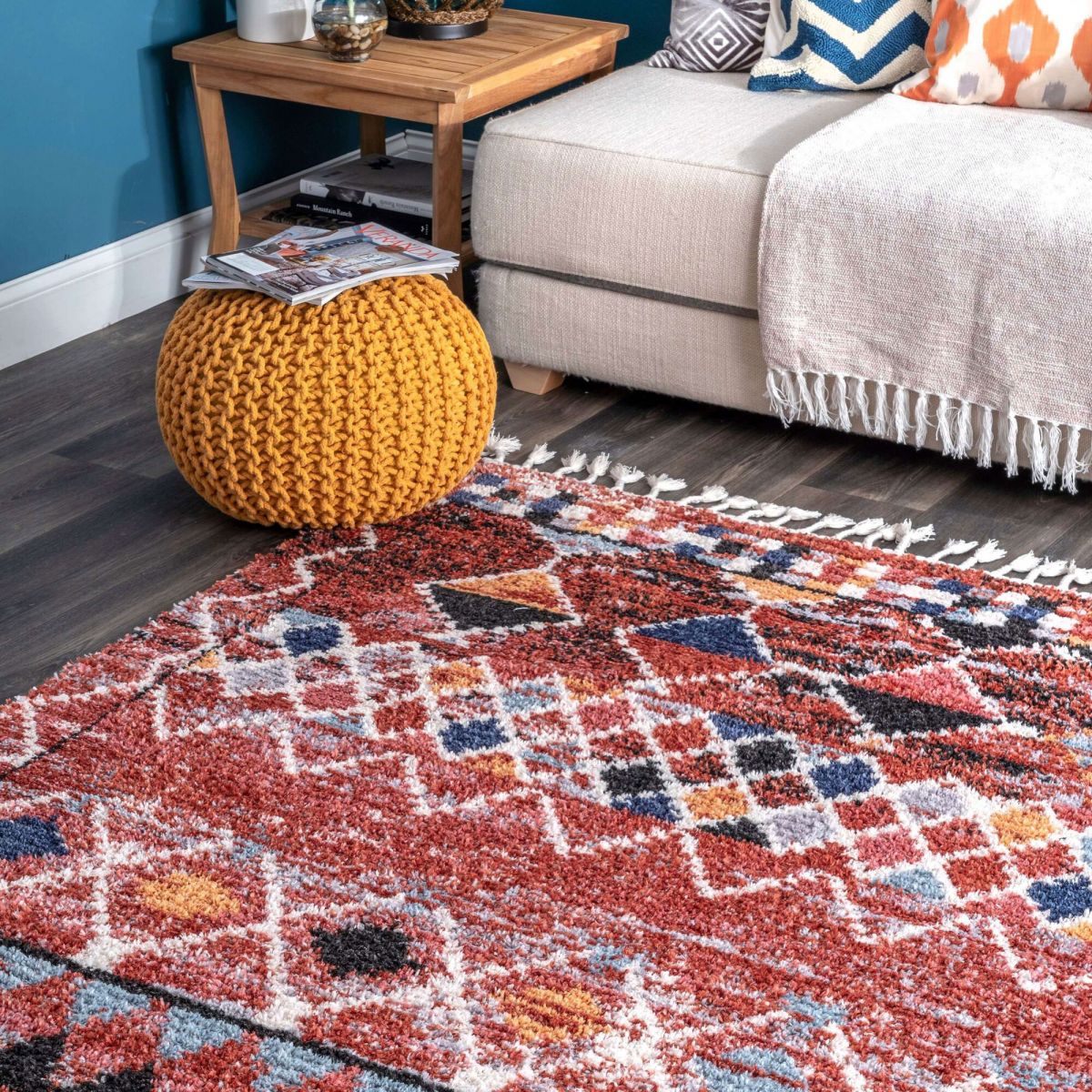 Image: Amara Tribal Moroccan Tassel Rug
The most striking thing about the Moroccan culture is the unique mix of both colours and patterns. No two designs are ever the same - so you have permission to mix things up a bit with your interior design!
Style your Moroccan rug with colourful mismatched pillows in your living room, knitted textures, and lots and lots of tassels.
Be sure not to shy away from vibrant wall art, too. Look for thick, messy brush strokes, layers of oil paint, and creative portraits of your favourite people - artists, celebrities, friends, and family members.
It could even be a fun DIY project for the weekend!
#2. Stack layers on layers on layers...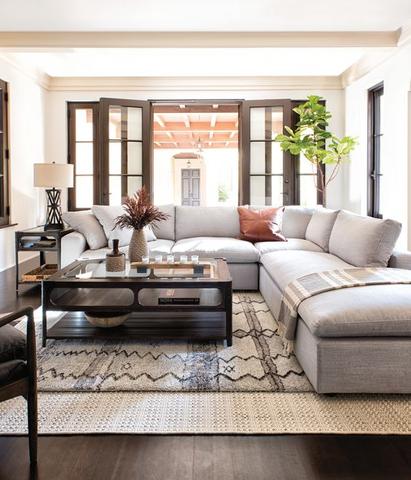 Image: The Elegant Nomad
Another unique aspect of the Moroccan look is layers. Whether it's throw blankets, books on your coffee table, or even your Moroccan rugs - take advantage of different sized objects and decorations, and layer up!
The messier look, the better. It's cosy, it's cultural, and it's a contemporary twist on modern interior design.
#3. ...Or embrace a thinner Moroccan rug and decorate around it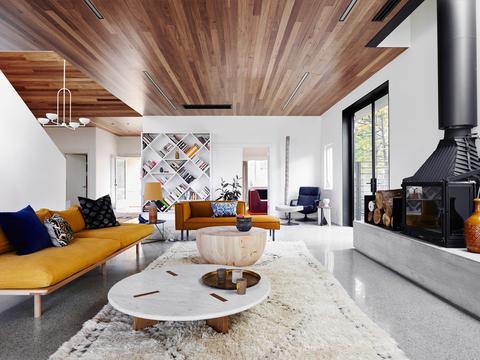 Image: The Elegant Nomad
At Rug.com.au, our Moroccan rugs come in a range of colours, styles, and sizes, including thin runner rugs with piled fabric and tassels.
If the layered look doesn't catch your eye, consider investing in a Moroccan runner rug and decorating around it. Place a couple of pieces of furniture on the rug, then add lounges, pottery, pot plants, and more around the rug.
It will add a new dimension to your living room or dining room - just take a look at the lounge room above!
#4. Experiment with blue and white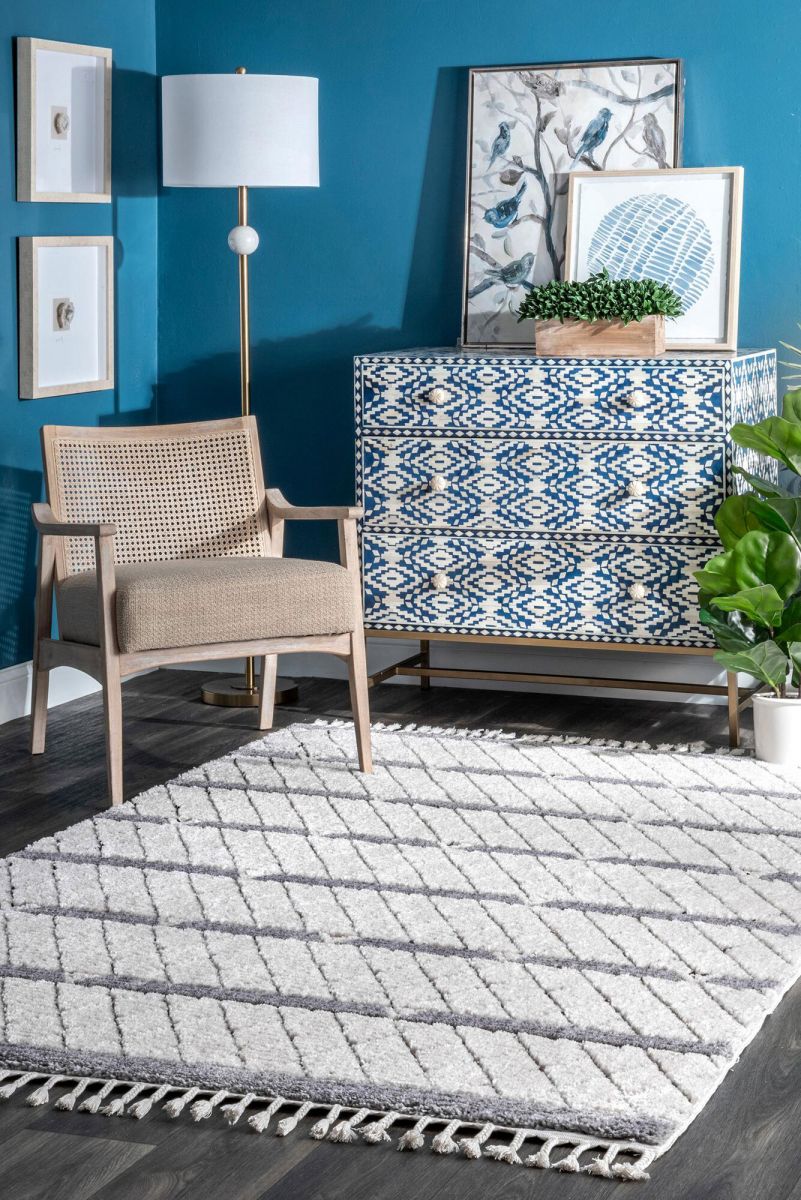 Image: Aroma Fringed Moroccan Rug
Blue and white patterns are often associated with Greece - after all, the Greek national flag is blue and white! However, Morocco adds an alternative twist to the almost naval colour scheme with intricate patterns and designs.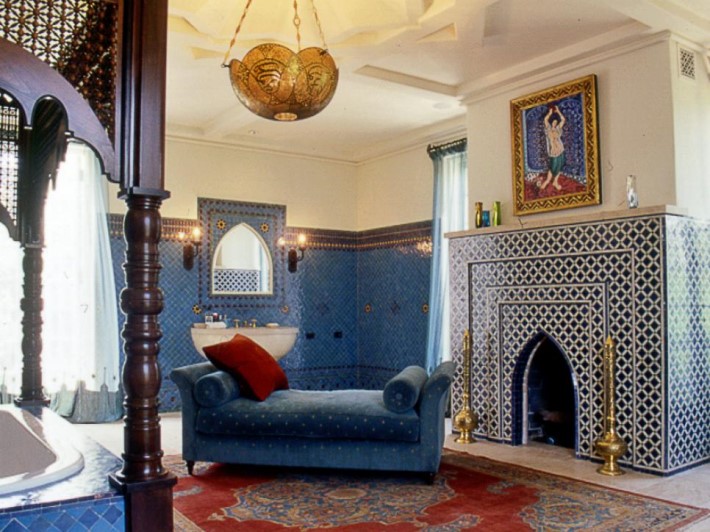 Image: Love Happens Magazine
Consider complimenting your new Moroccan rug by decorating with blue lounges, white timber, and add fun patterns to feature walls, fireplaces, and even tiles. Your interior design will be transformed in a heartbeat, taking you to the centre of Casablanca or Rabat.
#5. Let there be light with stained glass lanterns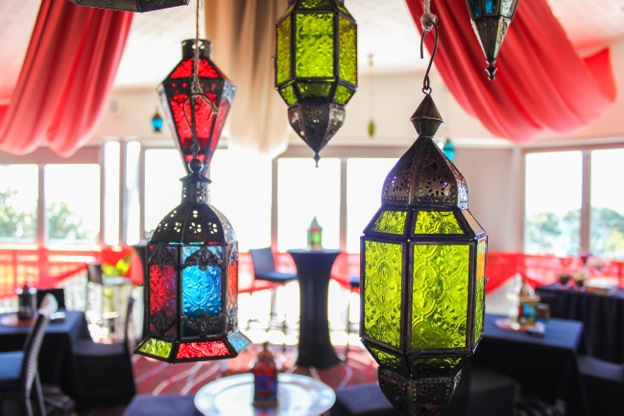 Image: Stradbroke Island
Looking for an attractive (yet affordable) way to complement your new Moroccan rug? Lanterns are an absolute must-have! Moroccan star lanterns are traditionally made with multicoloured embossed glass and hang from the ceiling - so you can say goodbye to expensive chandeliers and lighting.
Think tealights for your outdoor entertainment area, or purchase electrical Moroccan star lamps for the indoors. The soft, colourful lighting will make your indoor and outdoor spaces come to life.
#6. Decorate with elegant potted plants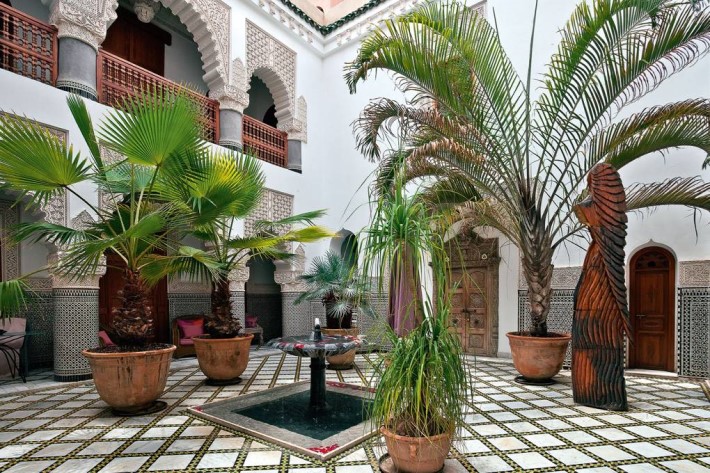 Image: Love Happens Magazine
While Moroccan rugs are traditionally woven from thick sheep's wool and are better kept inside, you can still add a touch of nature to your Moroccan-inspired interior design with lots of indoor plants!
Think large Monstera Deliciosa (otherwise known as "Swiss Cheese" plants) in bright patterned pots, leafy Epipremnum Aureum (otherwise known as Devil's Ivy), or Spathiphyllum (Peace Lilies) in wicker or cane woven baskets. All of these plants are long-lasting and partial to the indoors, so you won't need to care for them as much as your standard outdoor plants.
Alongside your colourful, shaggy Moroccan rugs, you'll feel like you're in a warm Moroccan oasis at all hours of the day.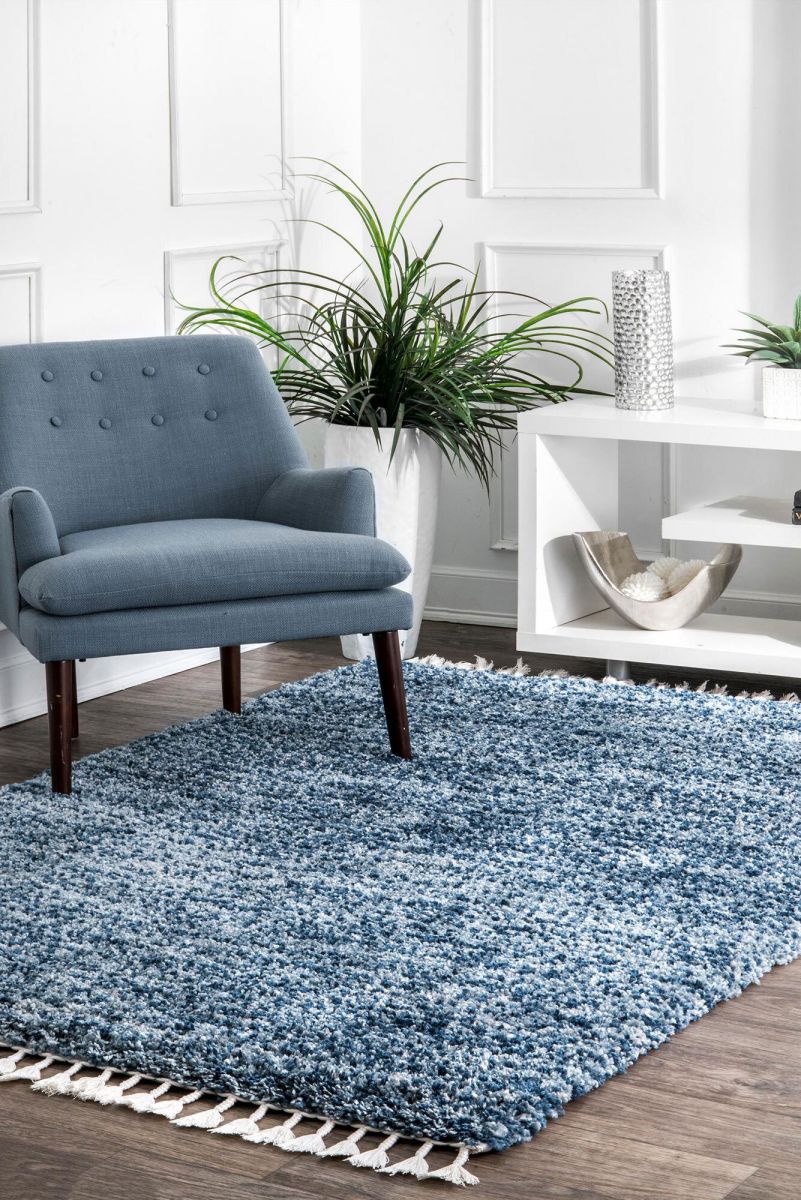 Image: Charles Moroccan Shaggy Rug
Charles Moroccan Shaggy Rug in Blue See how we've styled our Charles Moroccan Rug above? An impressive, leafy indoor plant can add a touch of elegance you didn't know you needed in your living room or study.
#7. Look for tassels and rough textures - especially from your Moroccan rugs!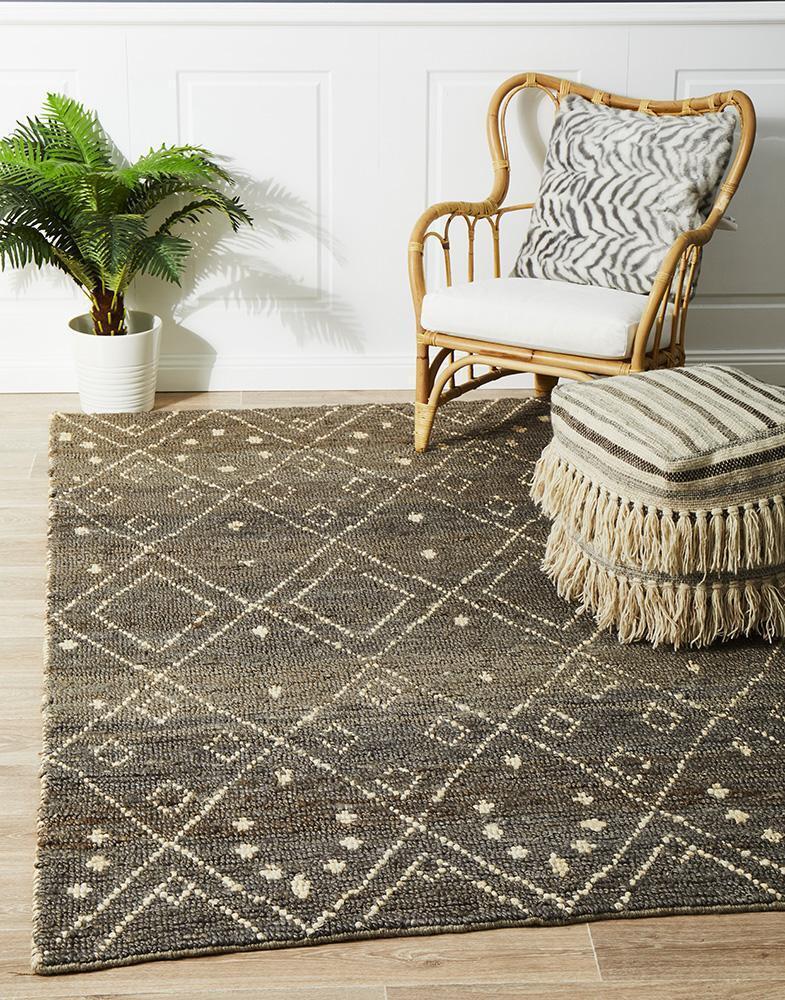 Image: Kamahl Moroccan Rug
A common characteristic of Moroccan rugs and Morocccan interior design is lots of tassels and rough textures. Many of our Moroccan rugs are considered "shag" rugs, meaning they're tufted and layered with lots of soft fabric. They feel amazing underfoot and look even more stylish.
When decorating around your new Moroccan rug, be sure to match it with tasselled pillows, pouffes, and throw blankets, so your Moroccan rug blends in perfectly with its surroundings.
Moroccan rugs can add colour and culture to your home decor
If you're looking to transform your home decor with bright colours, fascinating patterns, tassels, and texture, then a Moroccan theme is the perfect choice for you!
Moroccan decor has character and it's super simple to achieve. There's no need to aim for matching colours or finishings - the more mismatched, the better! Over time, you can collect knick knacks and pieces as you find them, until you have a charmingly cluttered, wonderfully colourful home interior design.
The one essential?
A Moroccan rug!
Perfect to place underfoot in the living room, under your dining room or coffee table, or even splayed out on your bedroom floor, Moroccan rugs look high fashion wherever you place them. We stock an incredible range of Moroccan rugs online - from compact, neutral coloured rugs to eye catching shag rugs made from layers upon layers of fluffy sheep's wool.
Find the Moroccan rug of your home decor dreams online today. We offer flexible payment options like Afterpay, so you can shop and decorate now, and pay later.