What is a Moroccan Rug? Your guide to the history & care of Moroccan Rugs

At Rug.com.au, we love the look and feel of a traditional Moroccan rug. Famous for their stunning colours and designs, unique tassels and thick pile, Moroccan rugs have been a favourite for Australian homeowners and interior designers for centuries!
However, what most people don't tend to realise is that Moroccan rugs have a rich history behind them, dating back as far as the Stone Age.
There's a lot to learn about our favourite rugs. In this blog, we share the history behind Moroccan rugs, share different types of Moroccan rugs, and even provide some cleaning tips to ensure your Moroccan rug goes the distance in your home. Read on!
What is a Moroccan rug?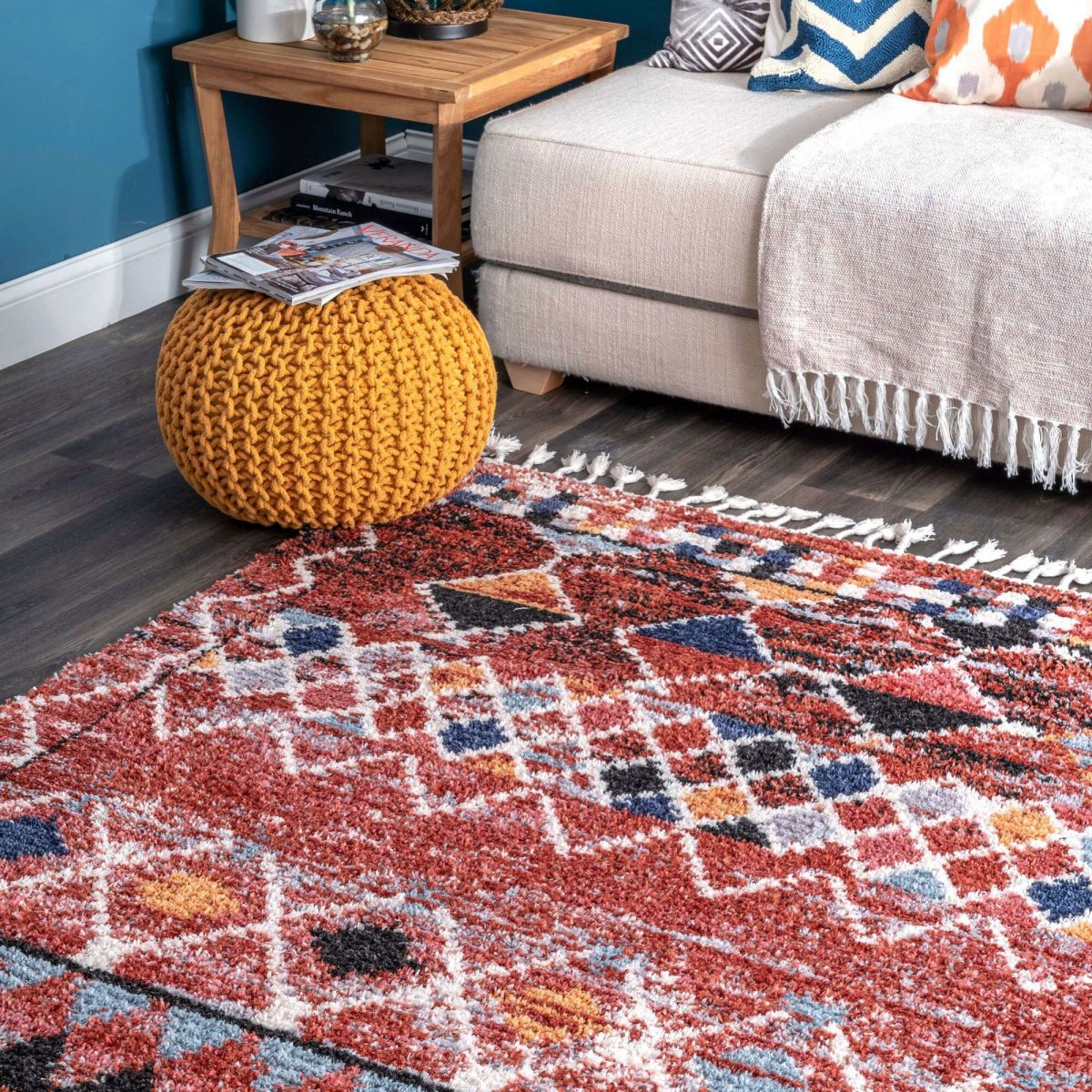 Image: Amara Tribal Moroccan Tassel Rug
Moroccan rugs have been made by the indigenous people of Morocco since the Paleolithic Era, otherwise known as "the Old Stone Age". The indigenous Moroccan and Berber tribes would hand-weave their rugs based on the climate - for example, Moroccan rugs were sometimes thick with a heavy pile for the cool Atlas Mountains, or flat woven to suit the high temperatures of the Sahara Desert.
Traditionally, Moroccan rugs were used as bed covers, sleeping mats, saddle blankets, and burial shrouds. Sometimes they were even used as shrouds to keep warm in winter, or just to spice up their outfits!
Moroccan families would pass down their rugs from generation to generation. No two rugs were ever the same - the women of the Moroccan and Berber tribes would weave unique imagery and symbols into their rugs, often telling stories about their lives and experiences.
Now, however, Moroccan rugs are collected throughout the world and known for their bright colours, intricate patterns, and extremely high quality.
What are Moroccan rugs made from?
Indigenous Moroccan tribes would weave Moroccan rugs from the raw wool from their flock of sheep, dye the wool using locally sourced and naturally occurring dyes, then carefully weave the fibres together by hand. It is said the softer, deep brown parts of a Moroccan rug come from the wool from the top of a sheep's head.
A common question we see online is "why are Moroccan rugs so expensive?"
Traditional Moroccan rugs are made from the finest sheeps wool available and are often "vintage", passed down over 20 to 60 years. These spectacular rugs are hard to find and are often snatched up by collectors looking to preserve the traditions of indigenous Moroccan tribes.
At Rug.com.au, we've created a more cost-effective version of the Moroccan rug, featuring all the fantastic colours and textures of a traditional sheeps wool rug. However, our rugs are made from piled polyester, making them soft, fur/wool free, and far more affordable for homeowners looking to turn their homes into a bright Moroccan cityscape.
Are there different types of Moroccan rugs?
As we mentioned above, indigenous tribes would weave and design their rugs based on the climate or the area they lived in. Because of this, there are now many different types of Moroccan rugs, each with their own unique characteristics and benefits.
Here are just a few of the different types of Moroccan carpets and designs.
What is a Beni Ourain rug?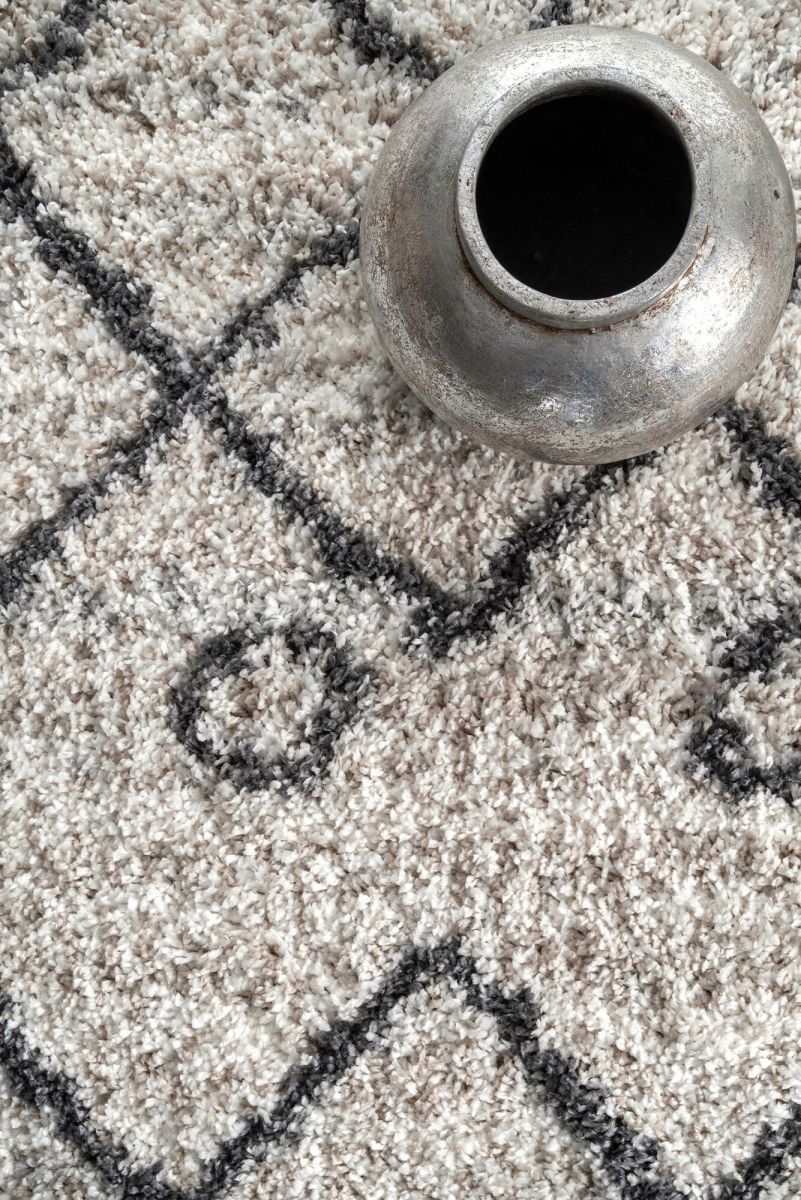 Image: Charles Beige Moroccan Shag Rug
Beni Ourain rugs were first woven by the Berbers of Morocco's north-eastern Middle Atlas Mountains - as well as neighbouring tribes. The "Beni Ourain" is a confederation of seventeen Berber tribes, who resided in the area since the ninth century.
Because of the cool climate in the Atlas Mountains, Beni Ourain rugs are some of the fluffiest and most comfortable carpets on the market. Made from 100% sheeps wool and completely undyed, these rugs have the natural colour scheme of the flock the wool came from - often white with cream stripes and dark streaks.
Beni Ourain rugs are also characterised by their unique geometric designs and symbolism, telling the story of the weaver's life - so, if you're wondering "what is a Beni Ourain rug" - It's the softest, warmest, and culturally rich Moroccan rug on the market.
Other rug designs in the Atlas Mountains area include the Azilal Rugs (High Atlas Mountains) and the Beni Mguild (Middle Atlas Mountains), both known for their sandy cream colours and thick knotted sheeps wool.
Boujad Rugs - Central Plains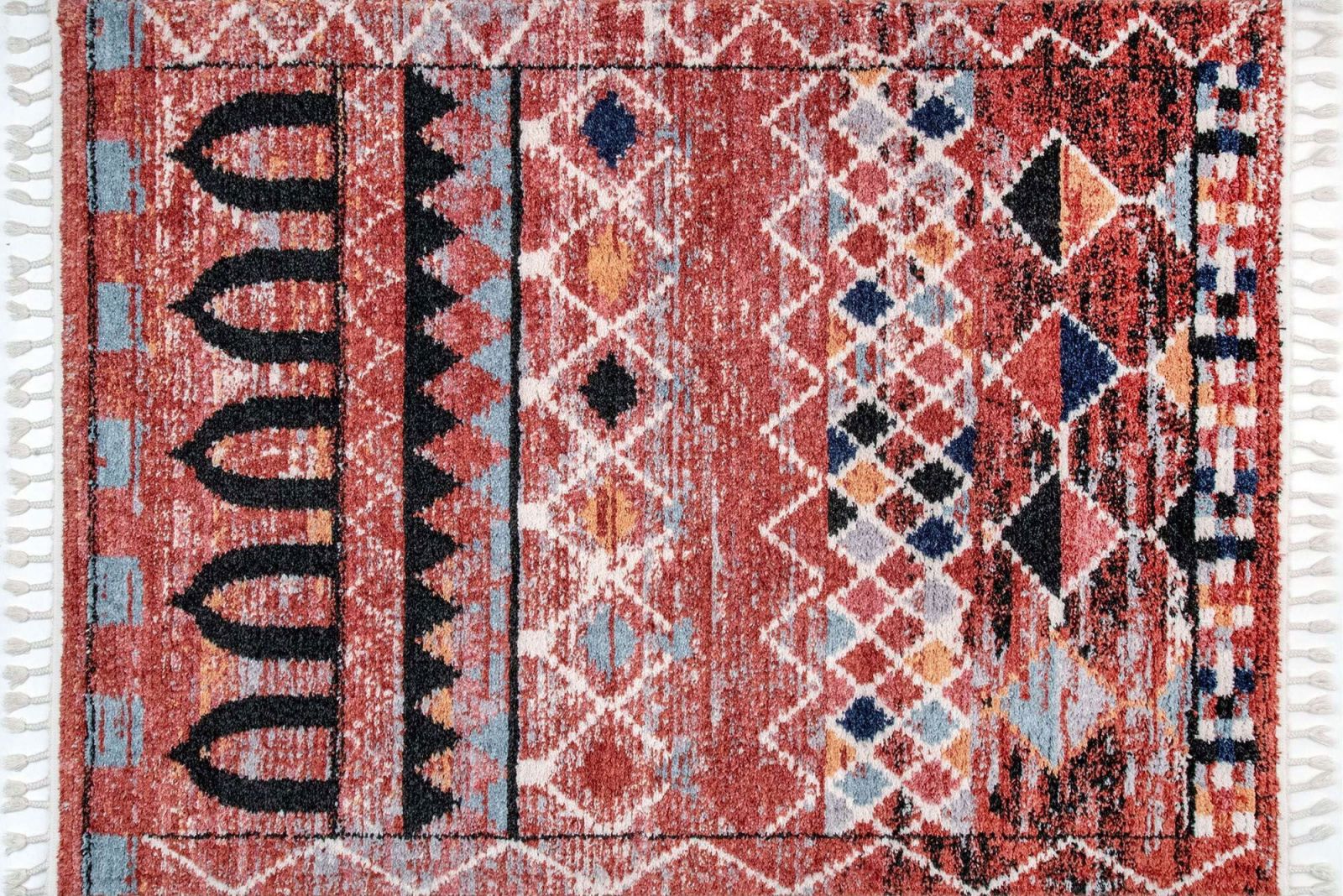 Image: Amara Tribal Moroccan Tassel Rug
Boujad rugs are characterised by their rich pink, red, and orange hues, made from natural dyes like flowers, berries, leaves, and henna.
Rather than coming from one small tribe, these rugs were made across a wider area of Morocco. Despite this, the rugs were still made using the traditional Berber technique of hand-weaving and knotting, but the knots are pulled tighter so they required less wool.
Boucherouite Rugs - All Tribes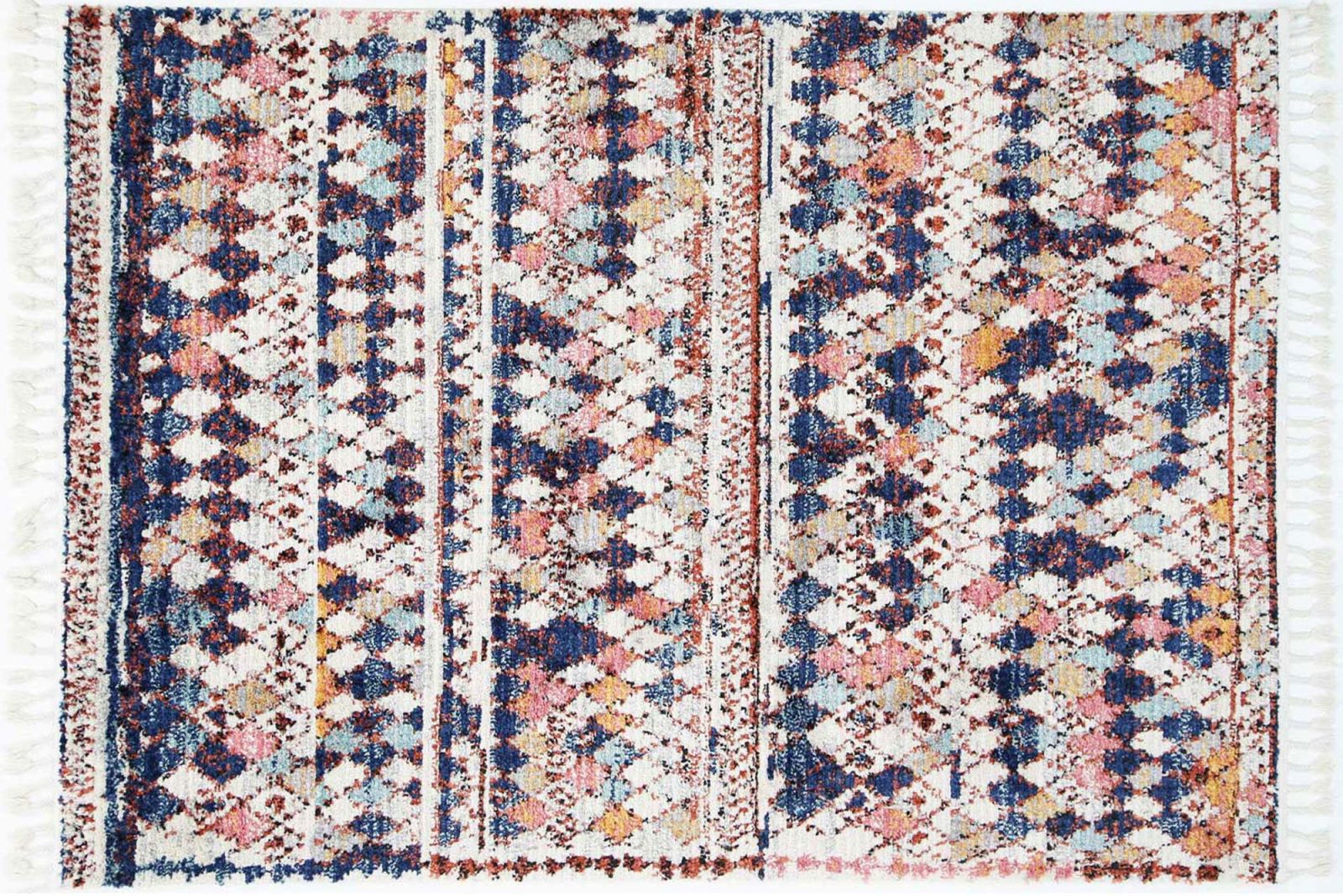 Image: Mayson Moroccan Tribal Rug
Boucherouite rugs are some of the most playfully and creatively designed rugs to come from Morocco. Traditionally, they were made for warmth in areas where there was little to no wool available. Instead, these rugs are crafted from scrapped clothing and fabrics, so they appear more like a "rag rug".
Thanks to the mixed fabrics and designs, these rugs are incredibly colourful and thick - perfect for living room floors and bedrooms.
Kilim Rugs - All Tribes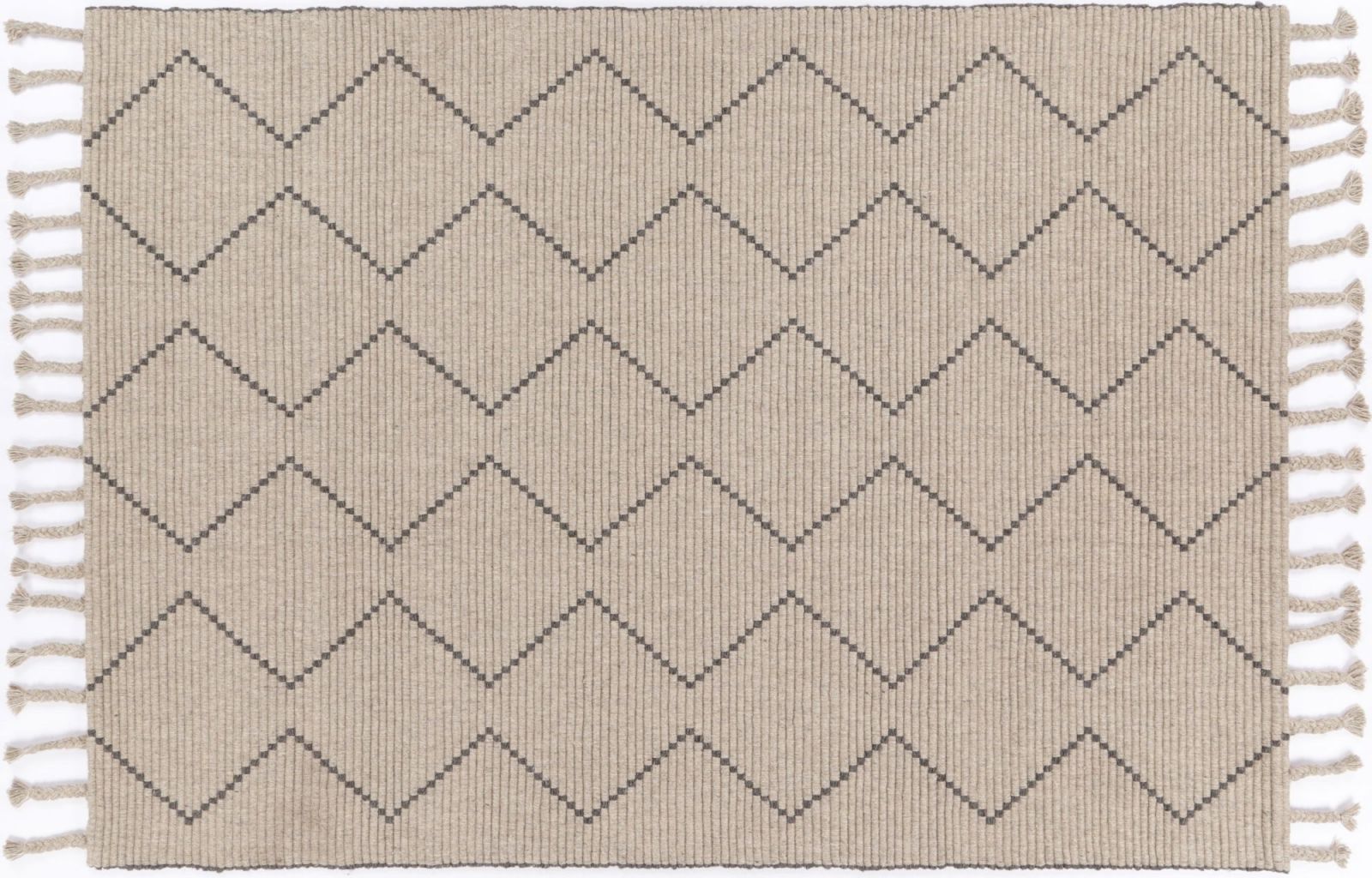 Image: Gemma Moroccan Tassel Rug
In stark contrast to most other Moroccan rugs, Kilim rugs are thin and flat woven for the desert. These rugs are completely pileless, making them lighter and easier to transport on long saddleback trips.
Kilim rugs were ideal for hotter climates - now, they're perfect for splaying out across entire rooms, or even hallways for a hard-wearing carpet. Keep in mind, they're known to be quite large!
How to clean a Moroccan rug
Moroccan rugs often have a high pile, meaning they're thick and have long strands of fibres. Naturally, you might be feeling a little hesitant about cleaning your Moroccan rug!
Can you put a Moroccan rug in the washing machine? Will your Moroccan rug shed after cleaning? Will the colours start to bleed or fade? There are a lot of valid questions when it comes to how to clean a Moroccan rug, but we have some general tips to help guide the process:
Vacuum your Moroccan rug to remove dust, dirt, and debris. Be sure to raise your vacuum to the highest setting to prevent tearing out fibres and putting your rug under too much friction.

Shake your rug outside to remove dust, dirt, and debris. If you're unsure about vacuuming your Moroccan rug, consider taking it outside and giving it a good shake. You might even drape it over the washing line and beat it with a broom to help dislodge any nastiness.

Don't put your Morroccan rug in the washing machine. While some Moroccan rugs like the Kilam or Boucherouite style can survive a cold wash in the washing machine, we never recommend washing a rug in a washing machine. Instead, take it to a professional who has experience with piled carpets and rugs.

If you do want to clean a Moroccan rug at home, use a non-corrosive shampoo. Sometimes spills need to be cleaned up straight away. If an accident happens, use non-corrosive rug shampoos, or place the rug outside and hose it down. Make sure you dry your rug thoroughly and naturally out of the sun.
For more tips on how to clean a rug, get in touch with our team of rug specialists today. We can provide recommendations and advice to ensure the longevity of your brand new Moroccan rug.
Loving the rich history and uniqueness of Moroccan rugs? Shop the range online now!
Moroccan rugs are a staple favourite for Australian homeowners - their bright colours, soft pile, and unique patterns can add a touch of culture and character to any home.
If you're thinking about sprucing up your interior design with a brightly coloured Moroccan rug, be sure to check out our extensive range of Moroccan rugs! Made from soft piles of polyester, you're sure to find a fluffy rug to place underfoot in the living room or bedroom.
Shop the range online today - we offer free shipping on orders over $300!
Feature Image: Unsplash