Your ultimate guide to jute rug layering

Whether you're making your space cosier or highlighting your favourite piece of furniture, rug layering is a great way to bring your home to life!
As one of the most affordable, versatile and stylish rug materials, jute rugs are a popular choice for rug layering in Australian homes. Their chic design and rustic, natural charm mean they're always on-trend and complement a range of common decor styles. But how do you enhance your home with a layered jute rug, and what's the best jute rug for layering in your home?
In this blog, we'll walk you through our four essential tips for jute rug layering. If you're looking to take your interior design up a notch, read on and discover the possibilities for your space!
Why should you experiment with jute rug layering?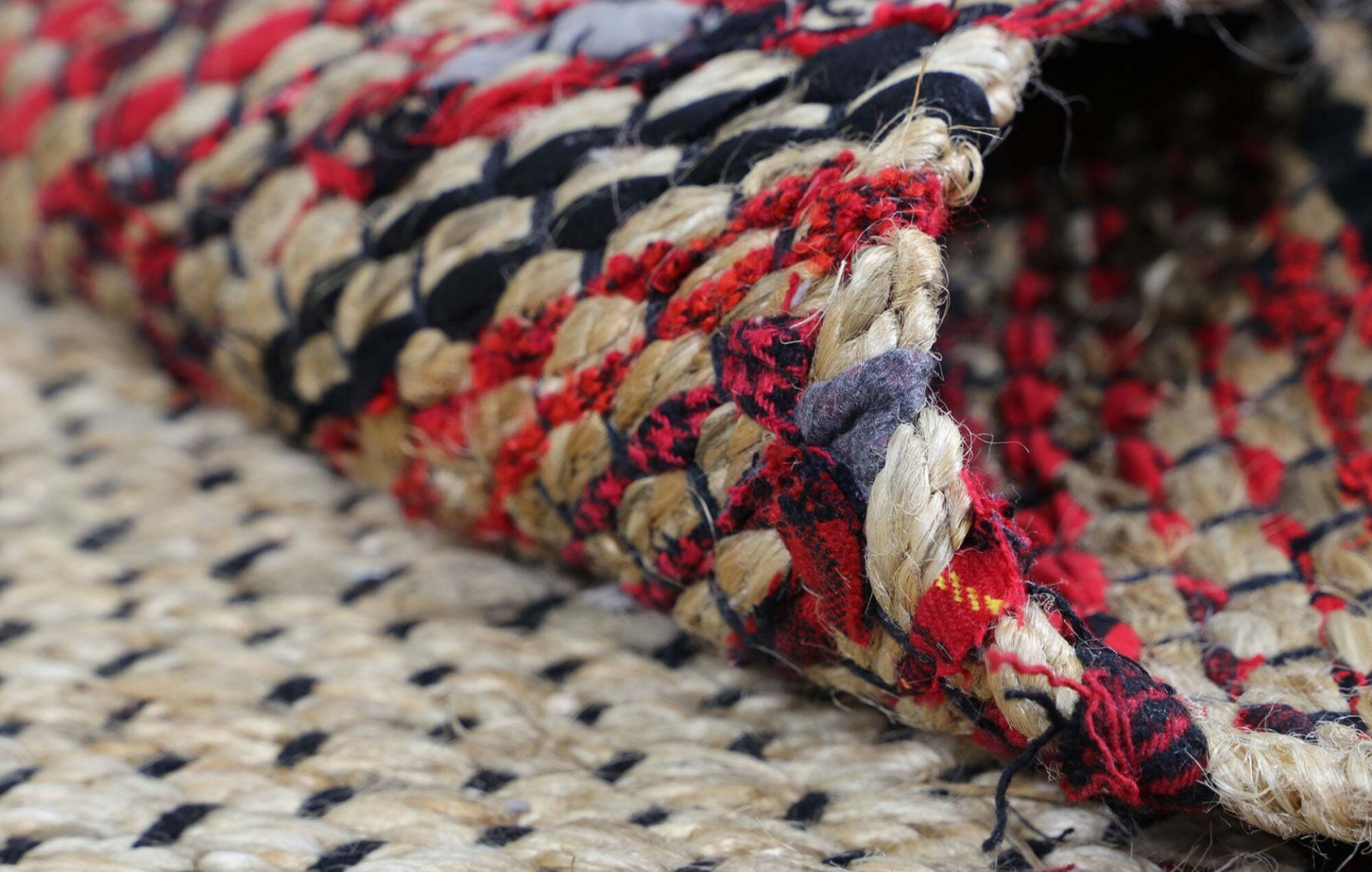 Rug layering has been trendy in Australian styling for years, with jute rugs quickly becoming one of the most popular layering choices thanks to their flattering neutral tones and affordability. So, what are the benefits of adding layered jute rugs to your interior decor?
They add character to your space. Layered rugs create an interesting, eye-catching look that adds charm and character to your room. This gives your room a distinct look, feel and personality.

They highlight important pieces of furniture. Because our eyes are naturally drawn to layered rugs, they're often used to pull focus towards a specific spot. This makes them great for highlighting your favourite coffee table, ottoman or chair!

They make the room cosier. Layered rugs typically cover a wide surface area in your room, which gives your space a cosier, more comforting feel. Depending on their size, they can also cover most of the wooden boards or tiles on your floor — so you won't have to walk across cold hardwood in the middle of winter!
Feeling inspired? We don't blame you! Whether you're moving, redecorating or giving your space a spruce, get creative with our ultimate guide for jute rug layering. Read on!
#1. Use contrasting neutrals for a classic layered look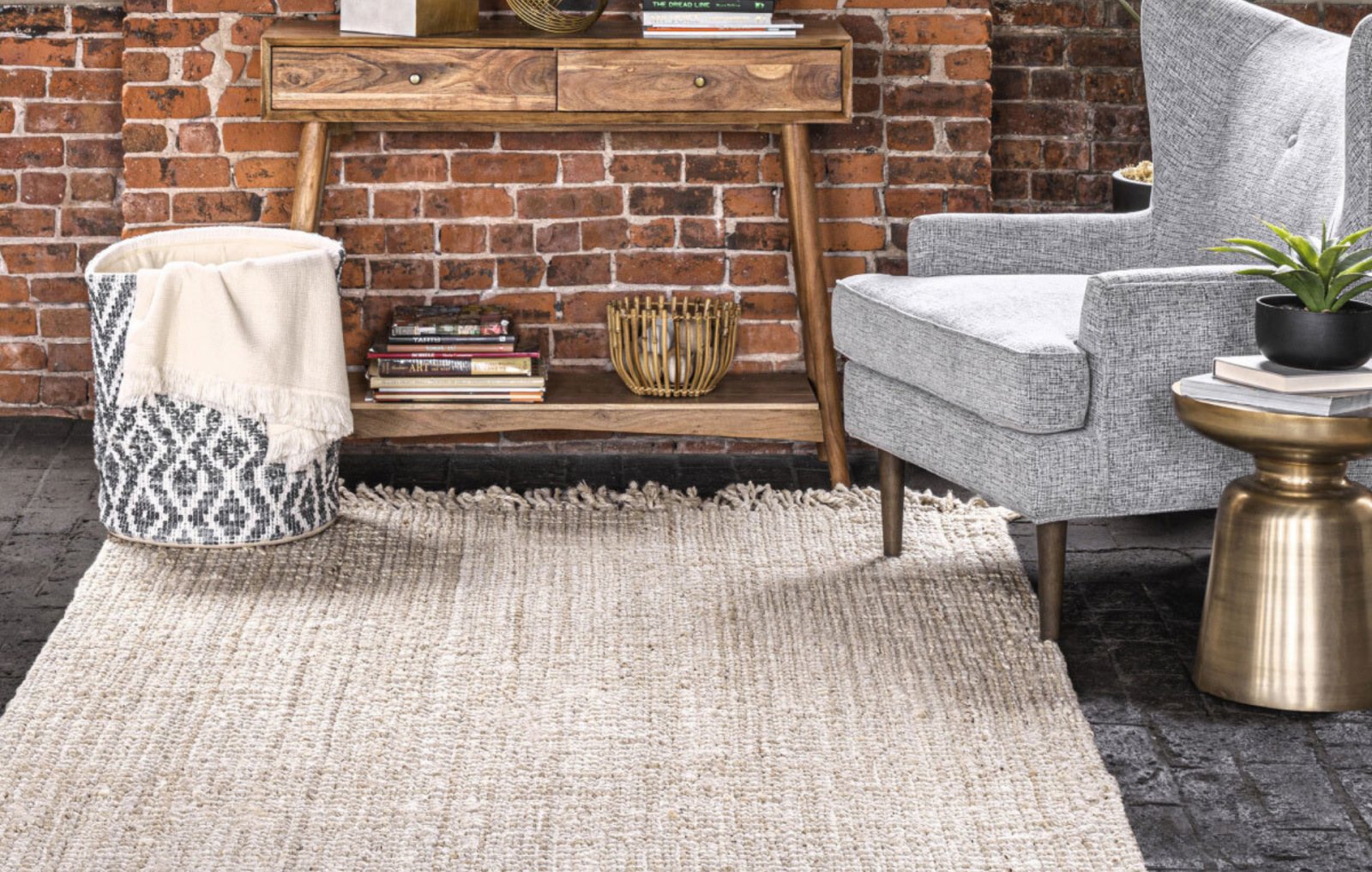 Neutral colours are a great way to tie your space together without overwhelming the rest of your interior decor. Neutrals are also popular thanks to their calm, soothing tones and rustic appearance, which makes them a great fit for a range of modern and traditional styles.
Jute rugs are known for their gorgeous tan, beige and off-white shades, which makes them a hit with neutral interior styles. If you're going for a neutral look, we recommend layering two contrasting shades of jute together to add an extra pop to your space.
The best approach is to choose two solid neutral shades that are different enough to stand out without creating a jarring contrast. For example, a deep tan jute rug looks excellent when placed under an off-white or cream jute rug.
#2. Add patterns to spice up your jute rug layering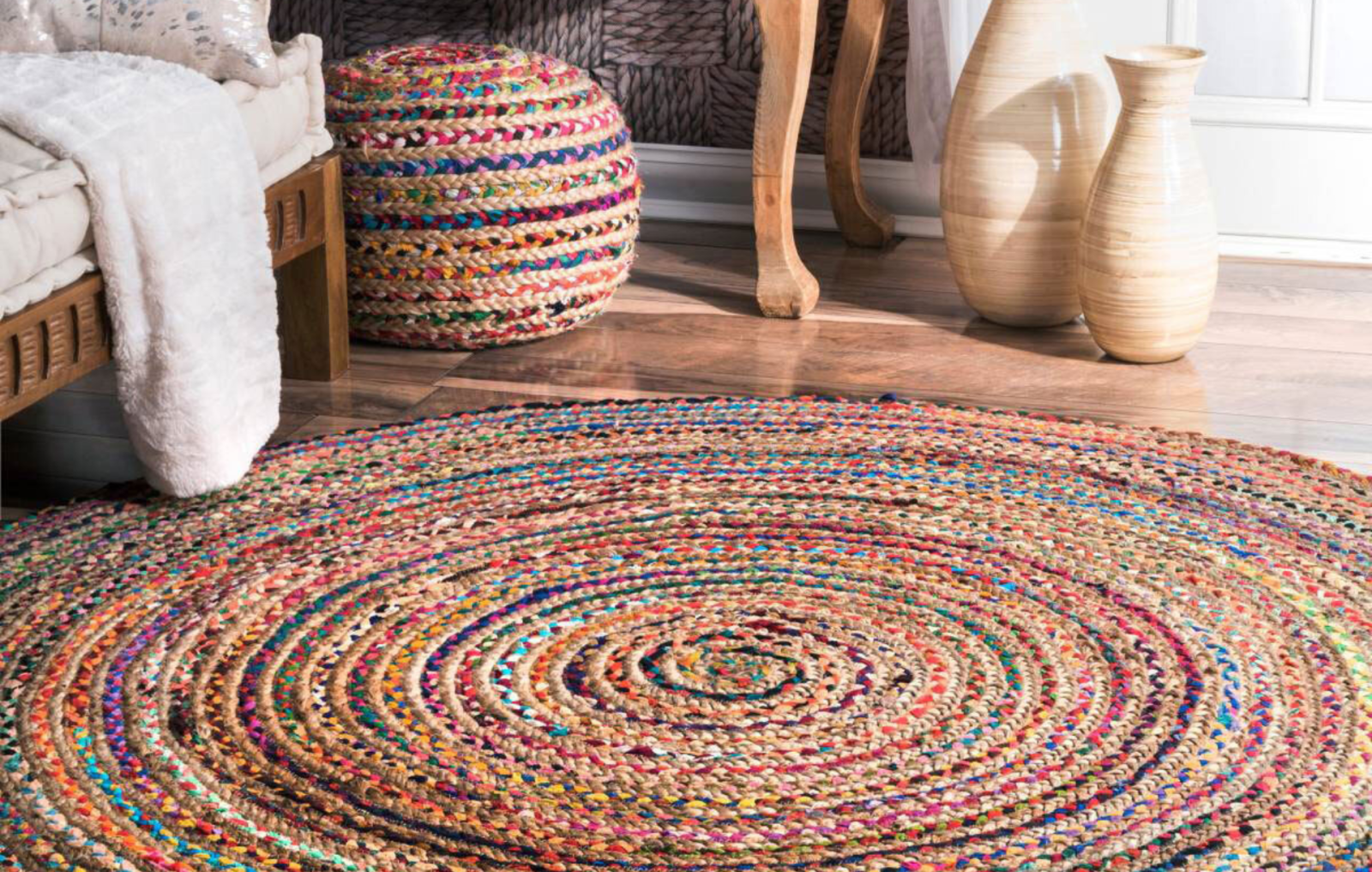 Looking for that little something extra for your rug? Bring your space to life by adding a patterned rug on top of your jute rug!
Patterned rugs are a great way to liven up a room and add extra colour to a space without clashing against your existing style. Patterned jute rugs feature the natural look and feel of jute with the vibrant colours commonly seen on cotton or synthetic rugs.
If you're new to the layered jute rug look, we suggest adding a small patterned rug on top of your existing rug, rather than underneath it. This allows you to fully display the pattern rather than having it cut off beneath another rug. Try adding a colourful pattern on top of a large neutral or solid-colour rug.
However, it's also worth experimenting with different patterns and layouts for your jute rug layering to see what works best for your space. For extra style points, try adding a round jute rug on top of a rectangular rug to create an eye-catching visual contrast!
#3. Experiment with colours to find the right look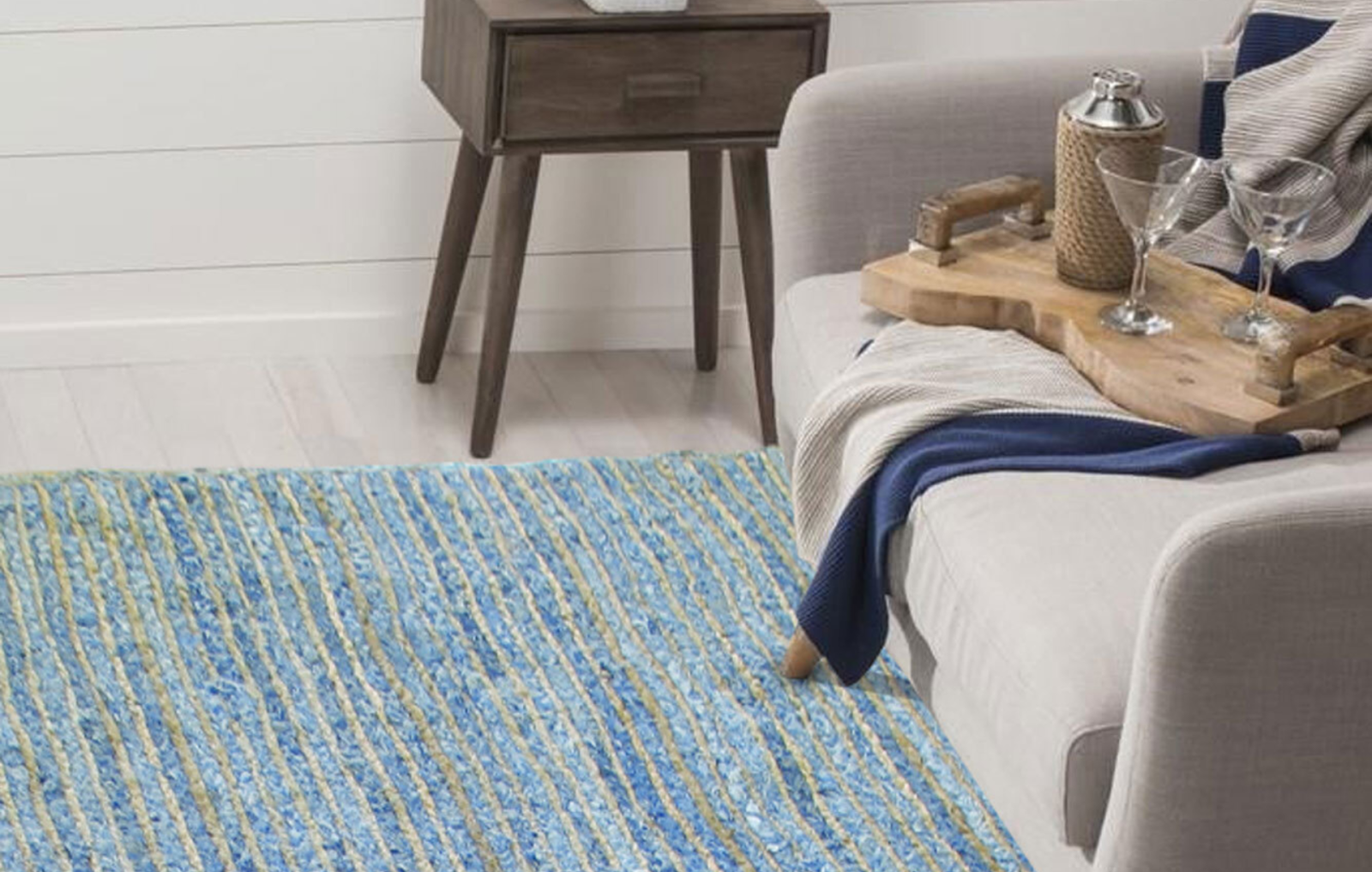 While most people think of jute rugs for their classic neutral tones, jute rugs are also available in a range of colours and shades perfect for making your space more vibrant.
Colourful jute rugs can be layered on top of or underneath your rug to add a splash of colour to the room. Try placing a bold-coloured rug on top of a large neutral base — this will create a distinct look without overwhelming your space. Plus, you can experiment with complementary tones or bold contrasts to create the perfect look and feel!
Cotton rugs are a good choice for pairing with jute rugs because of their colour variety. Cotton is available in a range of colours and shades at affordable prices, so you can find the right fit for your home without breaking your budget.
#4. Try layering different textures and styles on top of your jute rug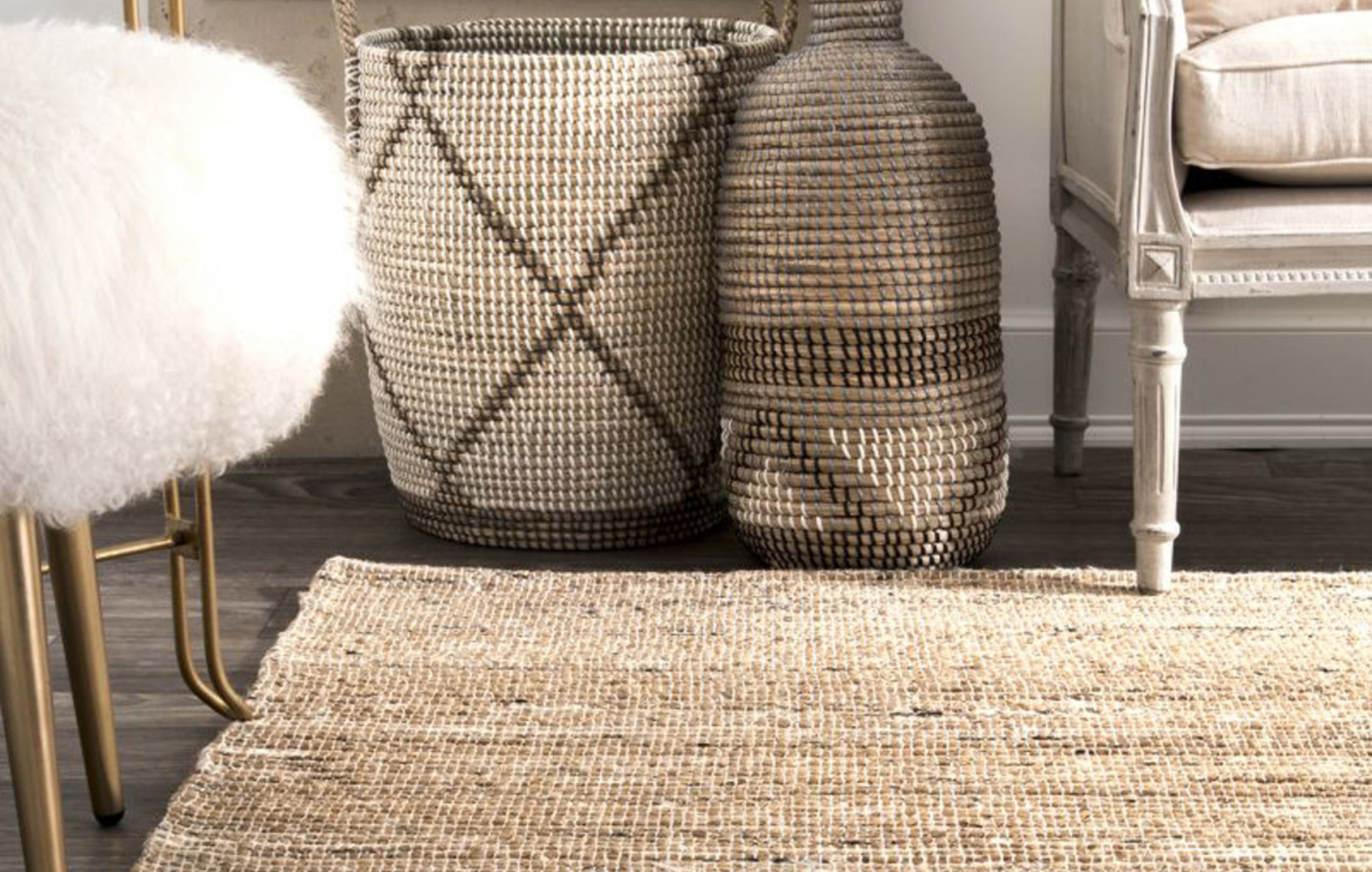 Jute rugs make a great base for layering multiple rug materials in your space, especially if you choose a neutral colour. Jute rugs also feature a soft, woven texture that makes them a great base to build textural contrasts from — for example, laying a fluffy shag or smooth cowhide rug on top of a textured jute rug.
This extends to different rug styles, too. A bold, monochrome geometric rug will create a striking, eye-catching contrast against a neutral beige jute rug.
Take a look at our guide to the best styles and materials for jute rug layering.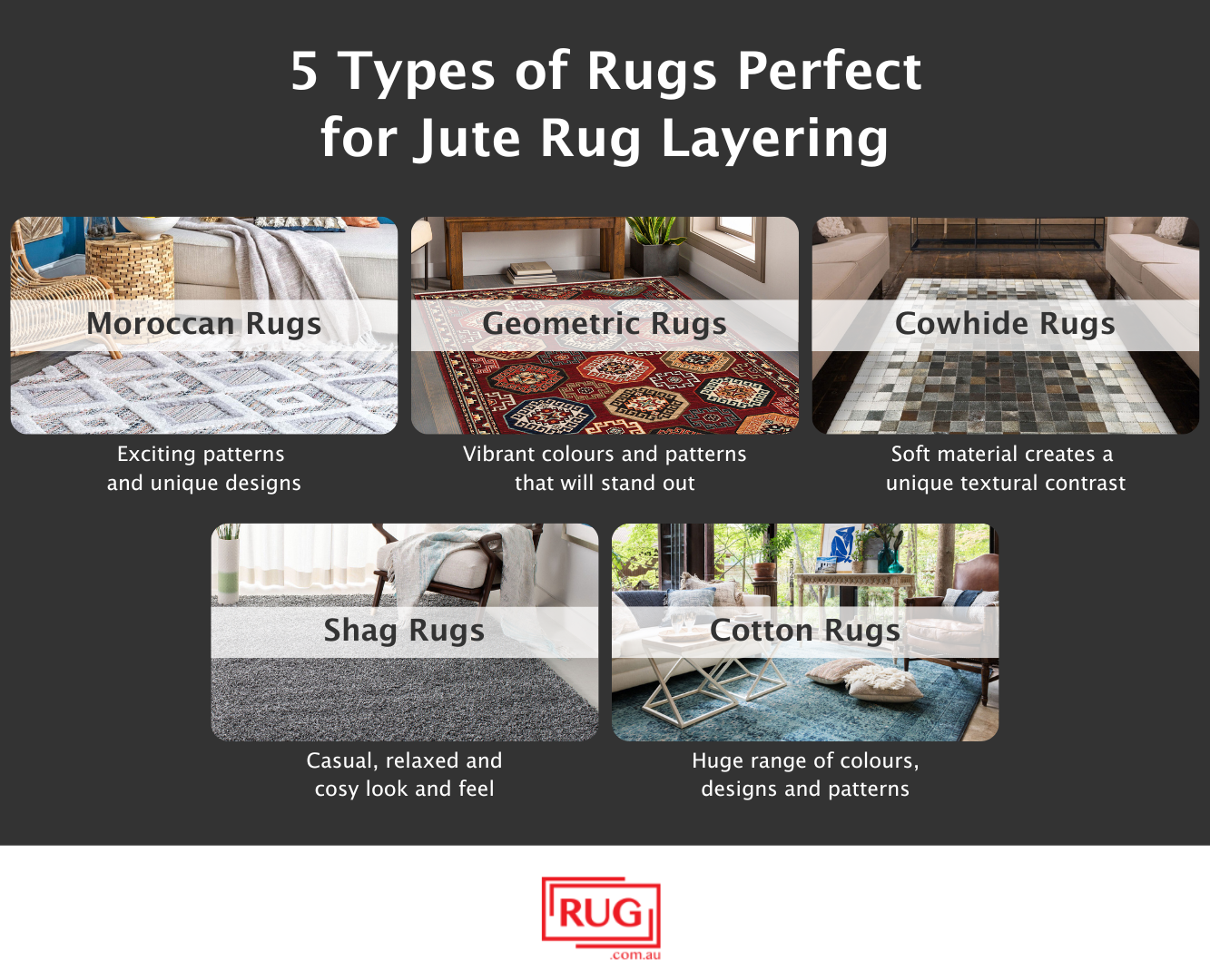 Create the perfect layered jute rug look and bring your home to life with Rug.com.au
Whether you're looking for classic neutrals, bold patterns or striking colour contrasts, find the best jute rug for layering from our range!
At Rug.com.au, we're Australia's favourite provider of affordable, stylish and long-lasting rugs that add the perfect finishing touch to a range of decors. Our range of jute rugs includes everything from round, colourful patterns to rustic neutrals, vibrant colours, border patterns and more – available at unbeatable prices. Plus, we offer fast free shipping when you spend over $300 on your next rug order!
Complete your space with a layered jute rug from our collection. Shop online today!
Get the best jute rug for layering from our range — Shop online today!