Your guide to moroccan style bedrooms, bathrooms and beyond

With vibrant colours, bold patterns and rich textures, Moroccan styling has been on-trend for decades across the world. In Australia, incorporating Moroccan-style decor is a simple way to add flair, character and a warm feel to your home — with stunning results!
Moroccan styling incorporates eclectic patterns, striking colours and contrasting textures to create an inviting atmosphere. The goal is to add energy and variety to your space without overwhelming the room. The style fuses vibrant North African colours and patterns with French design principles for a distinctly international feel!
If you're looking to liven up your decor, Moroccan styling is an exciting way to bring your home to life. In this blog, we'll explore how to create Moroccan-style bedrooms, bathrooms, living rooms and office spaces in your home. But first, let's take a look at the history of Moroccan styling.
What is Moroccan styling?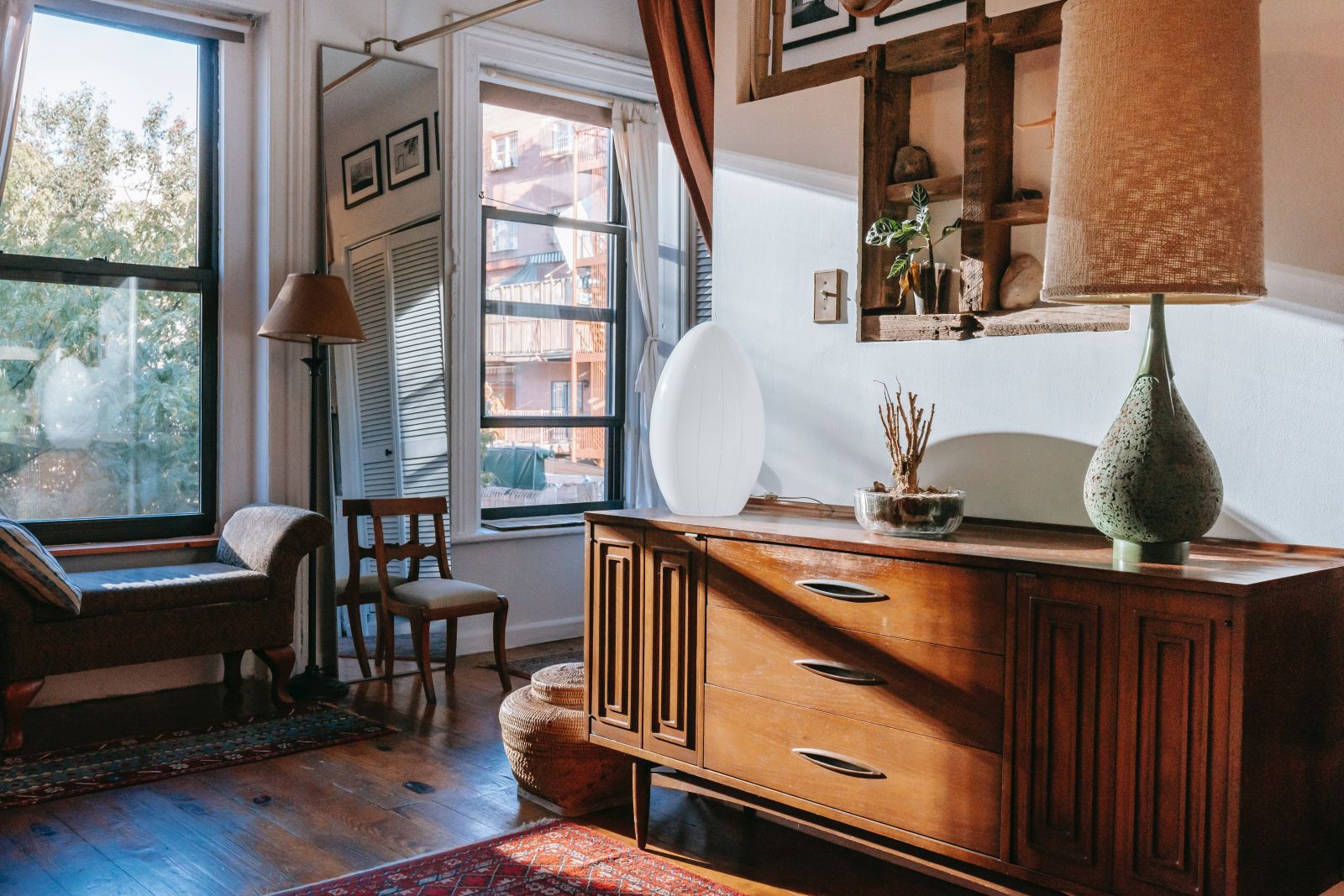 Originating from Morocco in North Africa, Moroccan interior design became a worldwide phenomenon in the 1960s when wealthy, bohemian travellers brought the style back to their home countries.
Morocco is a diverse country made up of cultural groups including North Africans, Arabs and Europeans, all of which have influenced the popular Moroccan style we see today!
The three main principles of Moroccan styling are bold colours, striking patterns and unique textures. Textural layering is a common styling technique, with contrasting materials like soft, hand-woven rugs often layered over coarse brick tiles to stunning effect.
Moroccan styling incorporates contrasting colours like oranges and blues in the same space. These striking colours are typically layered on top of calm base tones like warm whites or smooth tans to really make them pop.
Eclectic patterns are another common feature, with mosaic tiles used on walls, floors and furniture. However, Moroccan-style spaces should have a calm, peaceful and upbeat atmosphere — while Moroccan styling should be busy, it's important to avoid making your space feel overwhelming.
Do's and don'ts of Moroccan styling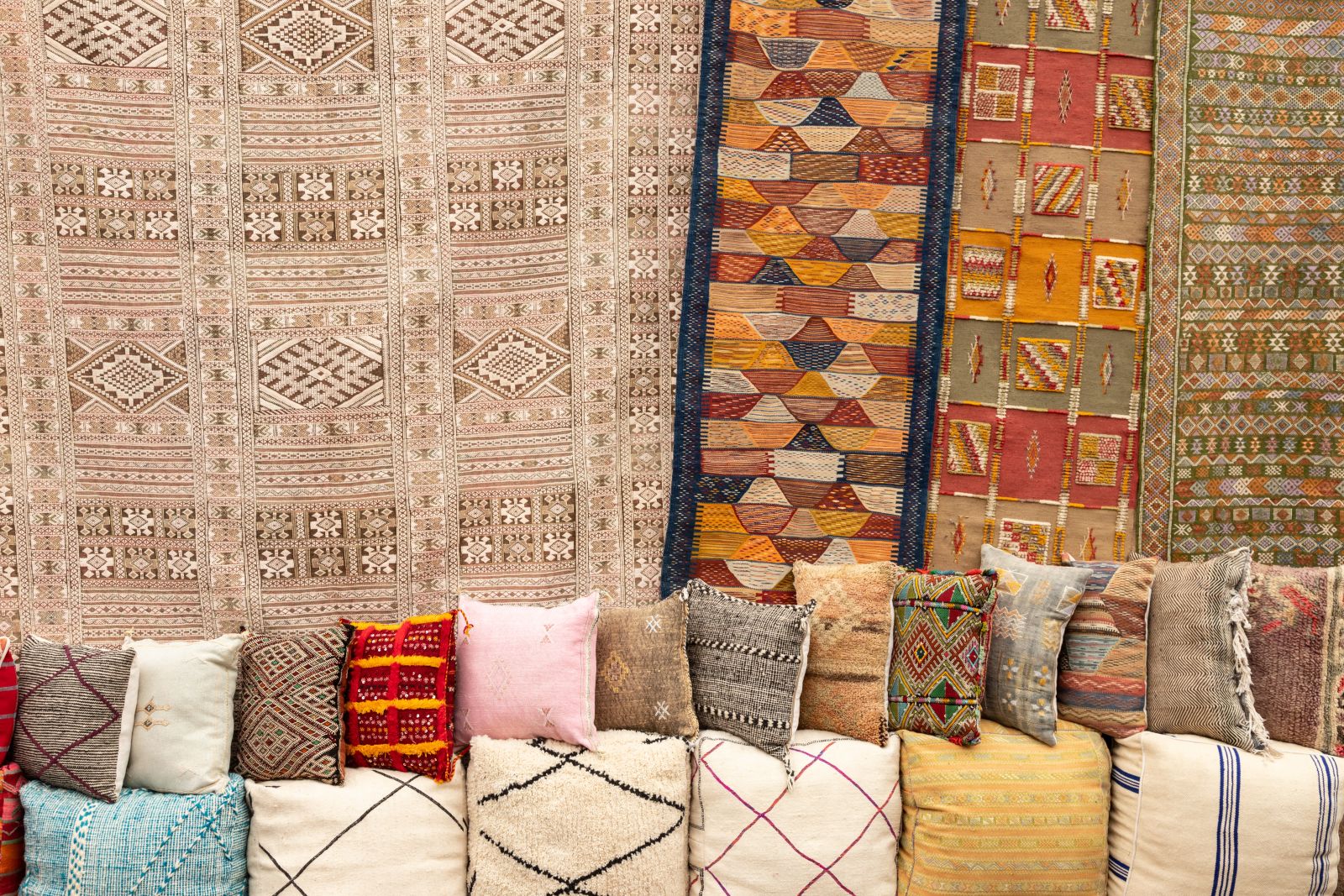 While Moroccan styling is all about experimentation, there are still several do's and don'ts to consider when designing your new space.
Avoid harsh lines. While geometric patterns are common with Moroccan styling, avoid furniture and decor that uses sharp edges and harsh dividing lines. This interrupts the flow of your space.
Experiment with colour. When people think of Moroccan styling, they often think of vibrant oranges, mustards and reds. However, Moroccan decor incorporates a whole spectrum of colours — think purple, rustic brown, warm white, cerulean blue and sage green. When it comes to Moroccan styling, there are no strict colour rules — the overall effect is what matters!
Choose low, rustic furniture. We recommend tables, chairs and stools that are set lower to the ground than traditional dining room tables and coffee tables.
Embrace the imperfections. Moroccan furniture generally has a vintage, handmade appearance. Mosaic tables with chipped tiles or cushions with imprecise patterns are perfect for this style!
Discover how to incorporate Moroccan-style bedrooms, bathrooms, living rooms and offices into your home with our handy styling guide. Read on!
Moroccan style bedroom ideas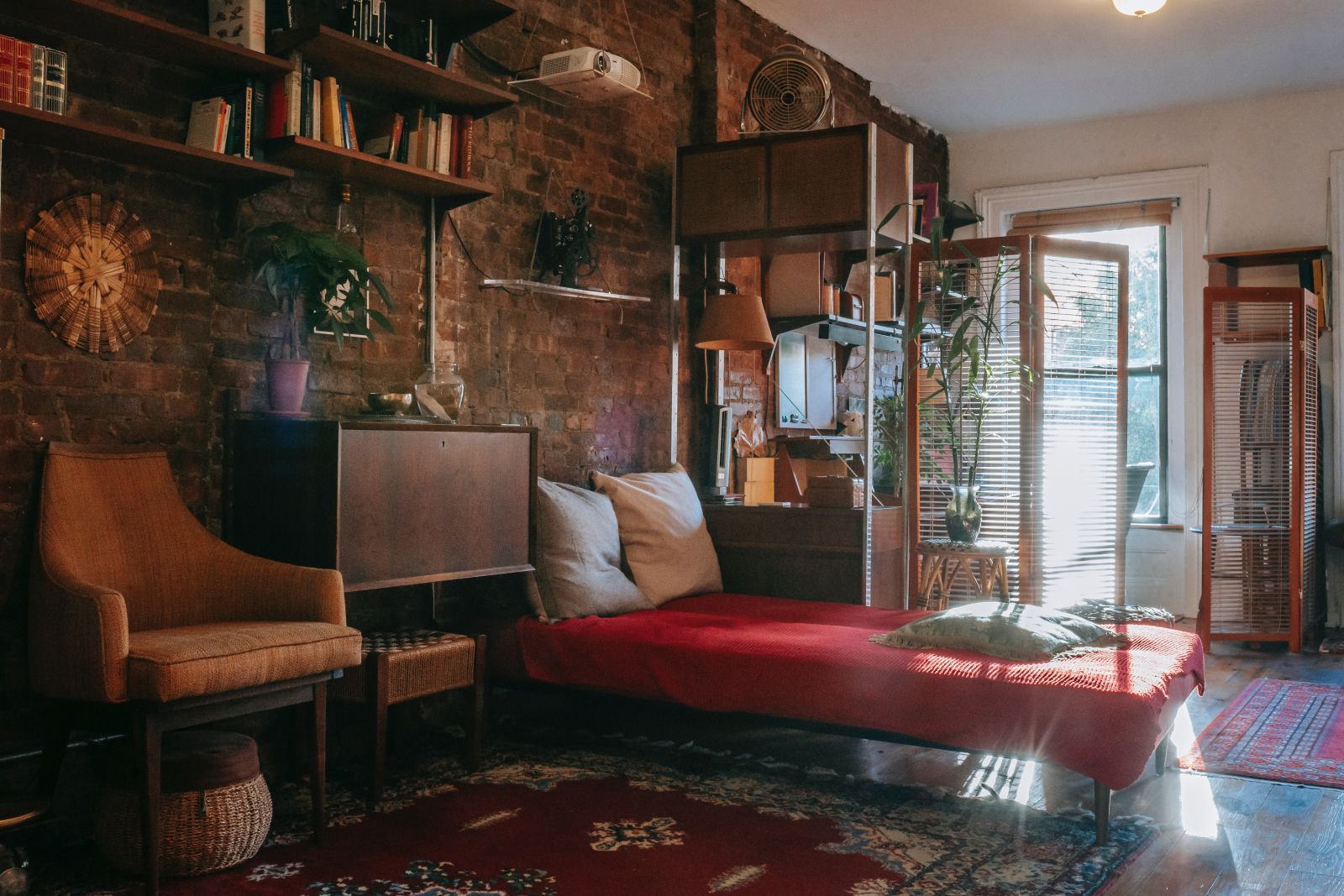 Moroccan style decor creates a unique, tranquil space to relax and unwind, which makes it perfect for bedrooms! Plus, the eclectic patterns and vibrant colours are a great way to add a statement area to your home.
Use soft warm lights
When it comes to lighting a Moroccan-style bedroom, avoid fluorescent lights. We recommend sticking with warm bulbs to create a comfortable, calm feeling in your space. Add to the mood by using multiple sources of warm light rather than a single ceiling-mounted light — this will reduce harsh lighting from overtaking your space and create a more laid-back atmosphere, perfect for unwinding after a busy day.
Vintage or antique-style lamps are a great choice for this, especially if they feature patterned designs. Look for stained glass lights, brass lamps and other rustic-looking lights for your bedroom.
Pillows, pillows and more pillows
Moroccan-style bedrooms feature beds as the main focal point of the room which are often layered with busy, eclectic sheets, decorative cushions, blankets and throws. Create a collage of different-sized pillows and cushions at the head of your bed and add decorative blankets and throws at the bottom to create a cosy atmosphere.
Experiment with pairing pillows and throws made with contrasting textures, bold colours and luxurious materials. For example, an aqua blue silk cushion would pop against a textured, off-white knitted throw — perfect for livening up the bedroom!
Moroccan style bathroom ideas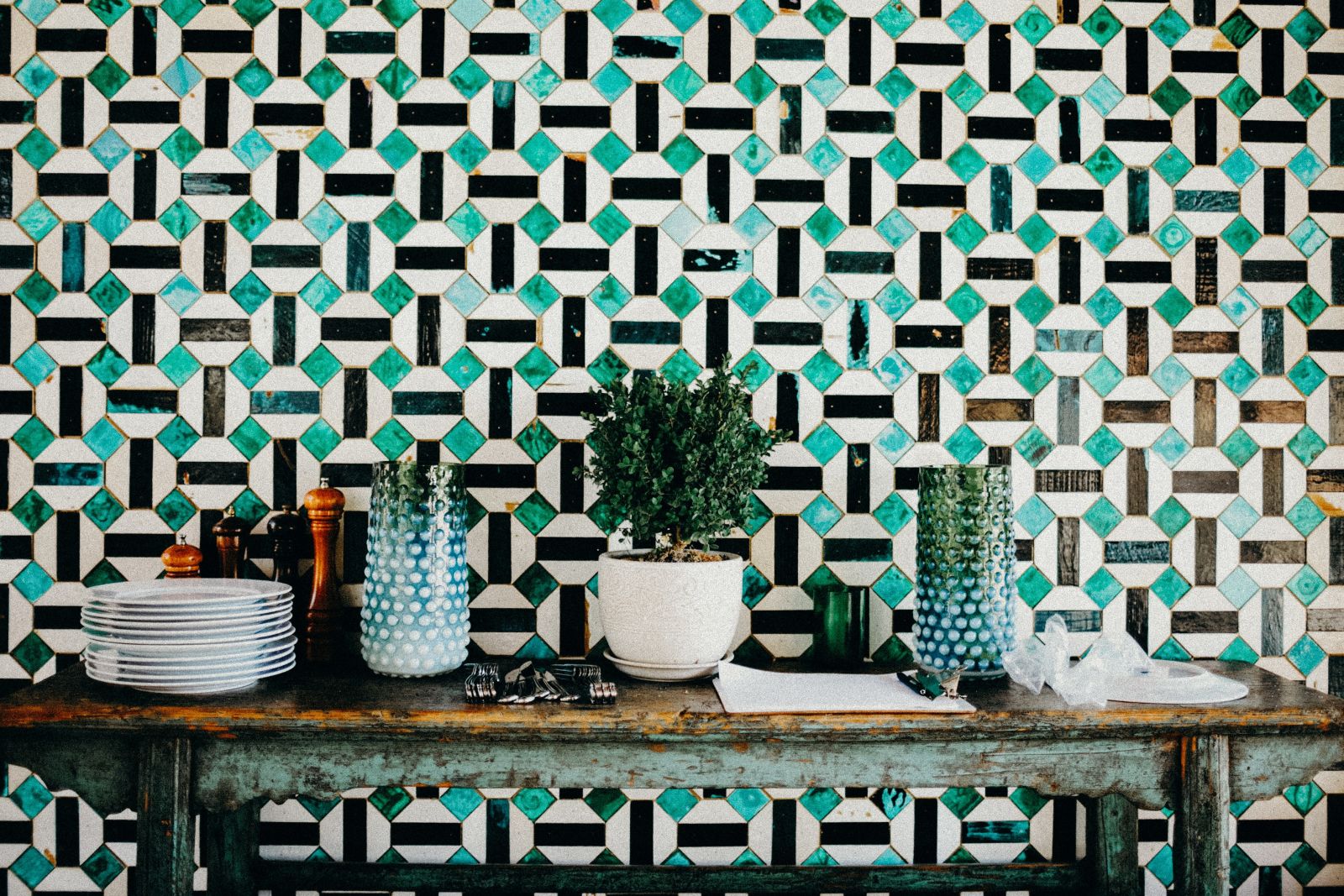 While bathrooms give you less room to play around, they're still a great space to experiment with some simple but striking pieces of Moroccan-style decor!
Install unique, bohemian mirrors
Replace your existing modern mirrors with wall-mounted bohemian-style mirrors. While often slightly smaller than traditional mirrors, bohemian mirrors feature decorative woven or metal borders that embody the flow and movement of Moroccan decor perfect way to spice up your bathroom.
The natural look and rough texture of woven borders are perfect for adding an earthy feel to the space, while mirrors with patterned metal borders feature intricate designs that liven up the bathroom walls. Plus, you can complement your new mirror with a bouquet of dried flowers to complete the natural vibe.
Choose patterns that pop for tiles
If you're working with a small bathroom, create your laid-back Moroccan-style bathroom by adding patterned tiling to your floors and walls! We recommend going bold with your tiles — think navy blues and deep purples with splashes of pink or orange for a striking colour contrast. If tiling is out of your budget, wallpaper is another great option for Moroccan-style bathrooms.
Complement your tiles with monochromatic walls painted in a calm, inviting and characterful colour like sage green. This will offset the busy pattern without dulling its impact.
Moroccan style living room ideas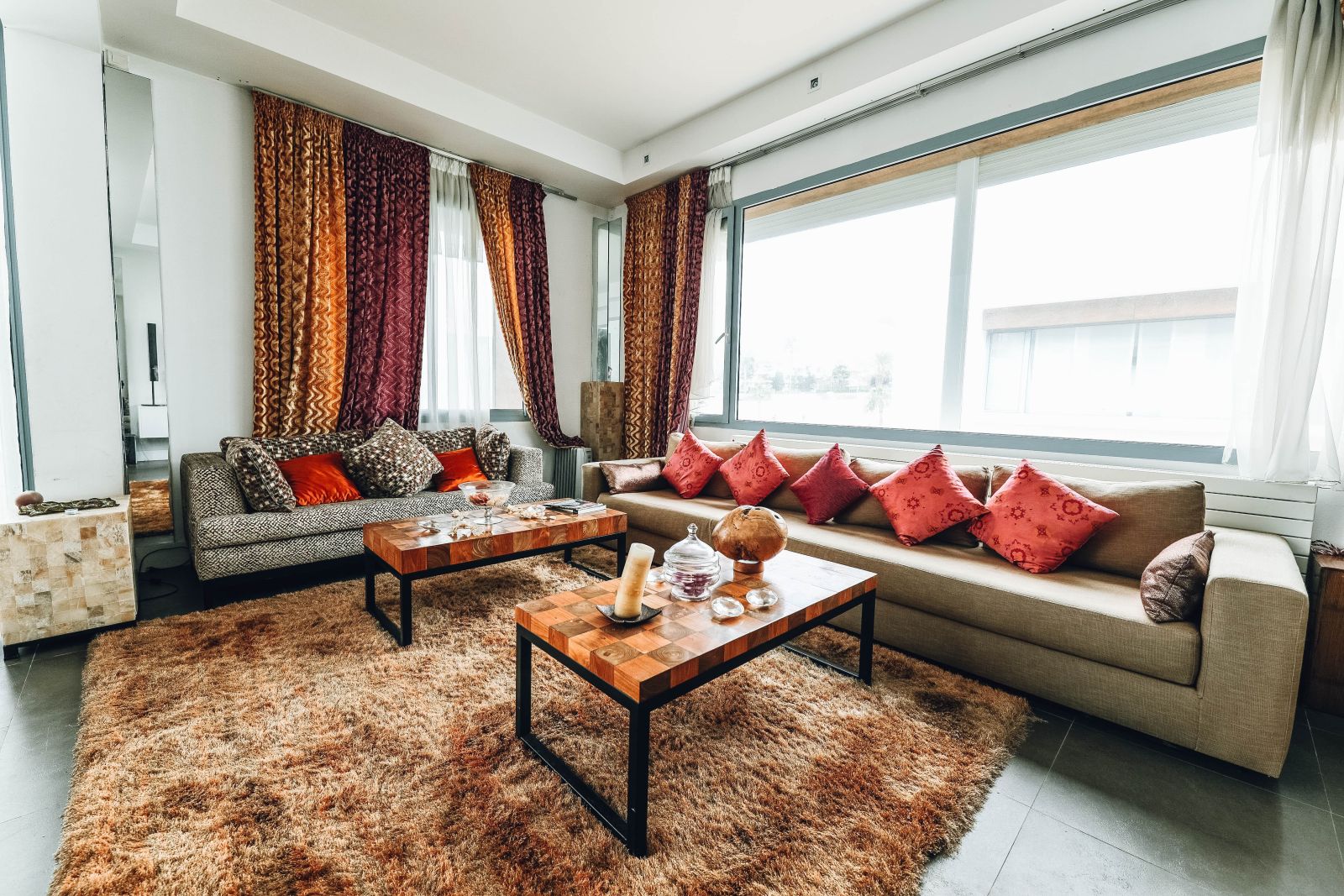 The living room is the busiest space in most homes. That's why Moroccan decor is so flattering for modern living rooms — it incorporates busy patterns and eclectic accessories to create an inviting space.
Moroccan decor is also a great way to tie together your living room furniture and create one cohesive setting, great for unwinding with the family or entertaining houseguests!
Use furniture as statement pieces
Antique furniture absolutely shines in Moroccan style living rooms. Look for furniture with deep mahogany or vibrant teak finishes — these colours really pop against patterned wallpaper and vibrant tiles. You can also incorporate furniture with intricate patterns like mosaic tables to add more energy to the room.
A great Moroccan-style living room will have plenty of sunlight to enhance the warm, calm feeling of the space. Much like in the bedroom, use soft warm lights to complete the look.
Remember: More is More
Variety is the hallmark of great Moroccan styling. Don't be afraid to experiment with geometric patterns, contrasting textures, layered rugs and colours across your space. Pair a small, tan-coloured jute rug on top of a colourful Morrocan rug or add a bold cerulean feature wall to your terracotta-coloured living room.
When in doubt, add more! The goal of designing a Moroccan-style living room is to layer eccentric patterns, colours and textures in one space to create a harmonious atmosphere. If it doesn't feel right, keep experimenting!
Moroccan office decor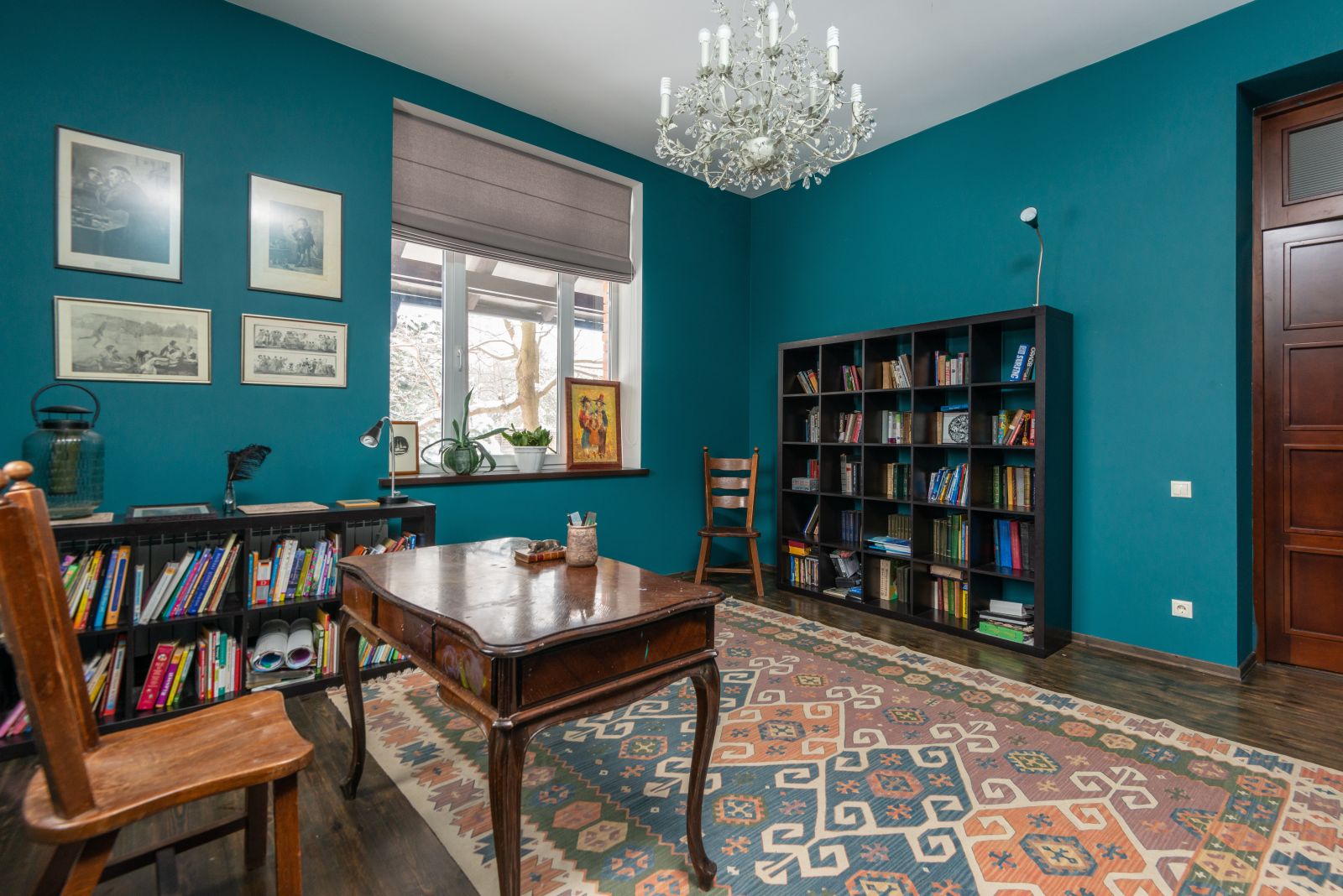 Liven up your home office with some gorgeous Moroccan office decor!
While low furniture and vintage pieces are perfect for living rooms, home offices need comfortable chairs and desks. Luckily, it's easy to add the Moroccan feel to your office without taking up too much room!
Blend accessories into the space
Small Moroccan accessories like stained-glass mosaic lamps, accent rugs and tropical plants are a great way to add a Moroccan finish to your office. Decorative mirrors are another great option, especially if they feature mosaic, jewel or woven borders.
Plus, keep a stack of colourful cushions and throws at the ready to stop the space from feeling too stuffy — plus, they'll be a blessing when you're working from home in winter!
Experiment with layered rugs
Depending on the size of your home office, layered rugs are a great choice to add a Moroccan feel without overwhelming the room. Layering is an important part of Moroccan design as it keeps the space feeling dynamic and exciting. Combining colourful, contrasting Moroccan rugs livens up your office without looking too casual for video calls or meetings.
Plus, rug layering is a great way to introduce contrasting textures to your space!
Add the perfect finishing touch to your Moroccan-style home with Rug.com.au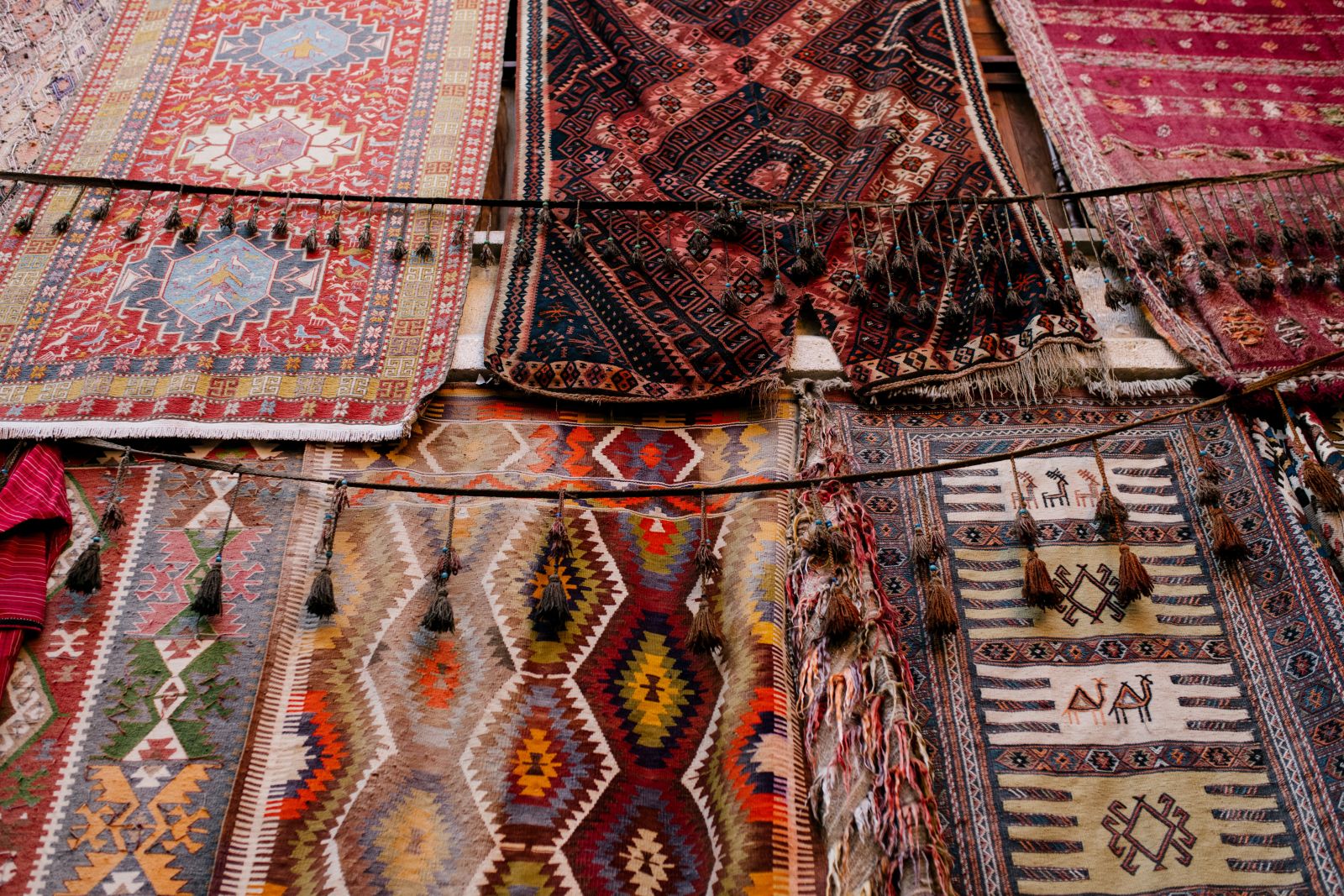 Ready to liven up your home? We've got you covered!
Rug.com.au is Australia's favourite provider of high-quality, affordable rugs in a range of styles, shapes and sizes. Our range of eclectic Moroccan rugs adds colour, texture and charm to spaces of all sizes — plus, with free shipping on orders over $300, it's cheaper than ever to add a new Moroccan rug to your home!
Keep your space calm with the laid-back blues of our Cara Moroccan Rug or tie your space together with a warm, comforting white Bergamo Moroccan Rug. Looking for something more lively? Our red Amara Moroccan Rug features a busy, vibrant pattern that will stand out in any space.
Whatever your colour of choice, we've got the right Moroccan rug for you. Order online today for fasting shipping Australia-wide.
Shop Moroccan rugs online today and get free shipping on orders over $300!